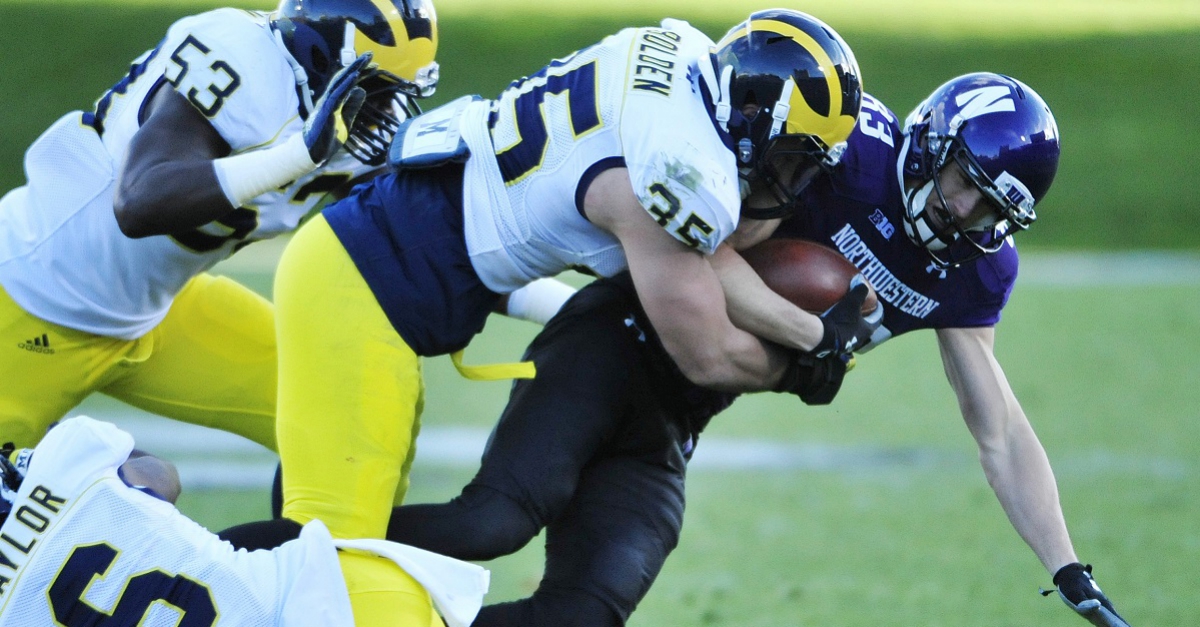 EVANSTON IL - NOVEMBER 08: Mike McHugh #83 of the Northwestern Wildcats is tackled by Joe Bolden #35 of the Michigan Wolverines during the first half on November 8, 2014 at Ryan Field in Evanston, Illinois. (Photo by David Banks/Getty Images)
The NFL combine is one of the biggest events of the college football offseason, as the best players from college show off their skills and athleticism ahead of their potential selection in the NFL Draft.
Well, over 300 players from college football were invited to the 2016 NFL Combine, but some of college football's best from 2015 were left out. This includes Alabama quarterback Jake Coker, Navy quarterback Keenan Reynolds, and Michigan linebacker Joe Bolden.
The Coker exclusion is interesting, as quarterback is a notably weak position in this year's NFL Draft. While Coker's NFL stock was never high, it is odd that he didn't even get the courtesy of an invite.
Keenan Reynolds is used to being snubbed from things, so this is nothing new for him.
Bolden was a team captain for Michigan this year, and he led the team with 83 total tackles. However, he wasn't much of the pass-rusher that is often sought in the NFL, and his lack of elite athleticism is really hurting him. Not being at the Combine doesn't give him an easy chance to prove the doubters wrong.
For the full list of 2016 NFL Combine participants, you can check out the NFL's website here.
——
The FanBuzz daily email newsletter keeps you up-to-date on the most important sports news. Sign up here.