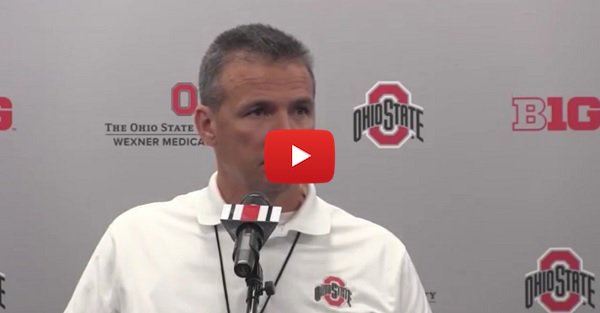 Last week, five-star recruit and Kentucky commit Landon Young (6-foot-7, 270 pounds, Lexington, KY) shared a story with SEC Country about his recruitment and how he committed to the Wildcats. Along the way, Young told how a recruiting visit to Ohio State negatively impacted his view of that school, as he felt that Ohio State head coach Urban Meyer called him a "bad player".
On Tuesday, Meyer responded to the story and he didn't exactly contradict what Young said. Here is what Meyer said, via 247Sports. (comments at 3-minute mark in the video above)
"I did read (the comments by Young)," Meyer said. "We had a lot of respect for him as a player. A lot. I was very disappointed in our staff that we did not offer him earlier.

"About treating him bad, we don't do that on purpose. If those are his feelings… I went back and talked to our staff about that because you don't want that out there. But when you have one out of 650 that say that someone was treated bad…
This is a very level-head response by the Ohio State coach, but recognizing why Young might be upset and defending his own recruiting tactics. If you read his interview further, he does seem genuinely upset that Young is going to Kentucky and not Ohio State.
"I know we did not offer him early. Afterwards, he really grew into a great player and we missed on him early on. I was very upset with our coaching staff, the recruiter in the area and then the position coach."
Meyer didn't deny the events as Young described them, but Meyer appears to be owning up to a mistake here. Overall, that's a good look for him, as there isn't really much to gain by calling an 18-year old recruit out as a liar to the media.