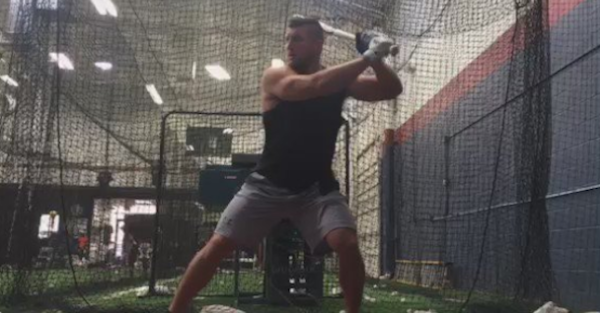 Twitter/@BeauBishop
Former Florida Gators quarterback Tim Tebow was back in the headlines on Tuesday, but not for his attempted career on the football field. Tebow announced Tuesday morning that he would be pursuing a career in baseball, and that he would hold a tryout for all 30 teams later this month. A few hours later, he had his first official offer, from the Schaumburg Boomers — an independent Frontier League team based in Schaumburg, Illinois.
Video then surfaced of Tebow in the batting cage. From the looks of it in the short clip, he really doesn't look half bad.
Look I'm by no means saying this video means he should definitely get a spot on a baseball team, but it's just a lot better than what I expected, honestly. The guy hasn't been in a cage in 11 years. This clip is sure to stir up more criticism and praise — both go hand-in-hand with seemingly everything Tebow does nowadays — for his new chosen career path. We'll see if the video prompts any more baseball offers, too.