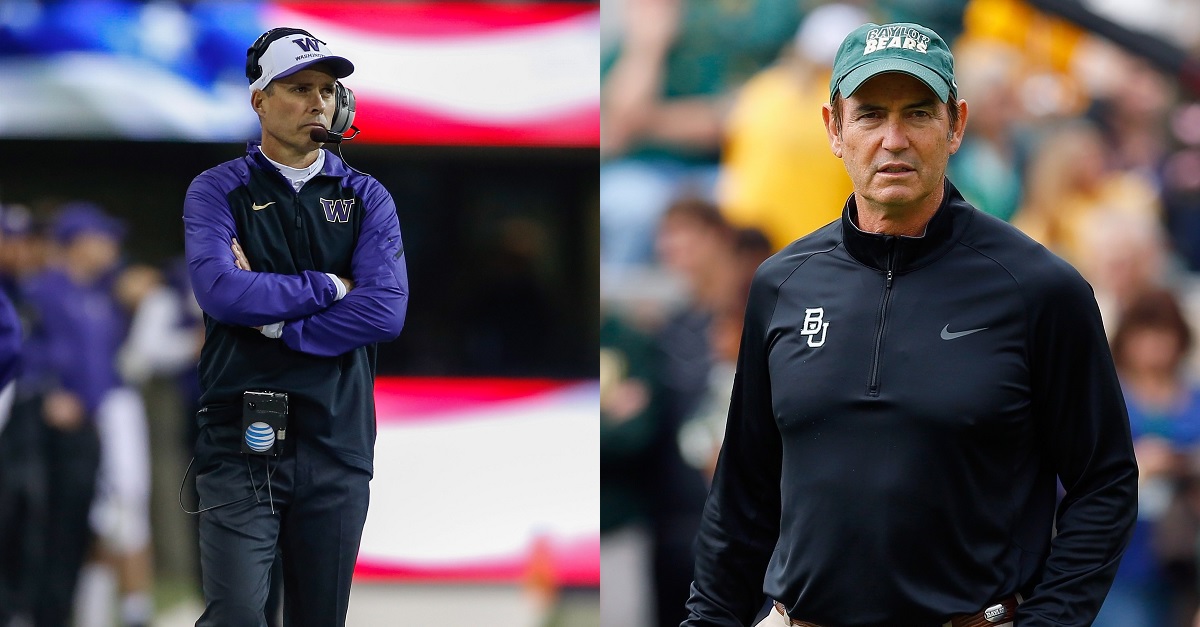 Former Boise State and Baylor defensive end Sam Ukwuachu was convicted of sexual assault on Thursday over an incident from 2013 involving a then-Baylor soccer player.
After the ruling, Baylor head coach Art Briles answered media questions on Friday morning, insinuating that he was not aware of Ukwuachu's violent past when Ukwuachu transferred to Baylor after being dismissed from Boise State in May of 2013.
"No mention of anything beyond Sam being depressed and needing to come home," said Briles of the conversation he had with then-Boise State head coach Chris Petersen. "So that was our information. And that's what you go by."
Now the head coach at Washington, Petersen fired back at Briles, saying in a statement that he gave Briles proper information following Ukwuachu's dismissal. This is what Petersen released, via Fox Sports' Bruce Feldman:
"After Sam Ukwuachu was dismissed from the Boise State football program and expressed an interest in transferring to Baylor, I initiated a call with coach Art Briles. In that conversation, I thoroughly apprised Coach Briles of the circumstances surrounding Sam's disciplinary record and dismissal."
In addition, Baylor and Briles could face even more trouble from this incident. After the sexual assault occurred, Baylor investigated and was going to allow Ukwuachu to play the 2014 season despite the investigation. This process came to a halt when Ukwuachu was indicted by the Waco district attorney's office. Ukwuachu now faces up to 20 years in prison after the conviction.
Briles has yet to respond since Petersen's statement and silence would likely be the best course of action for him going forward; he and Baylor University will continue to be under an intense spotlight for how this situation has been handled.