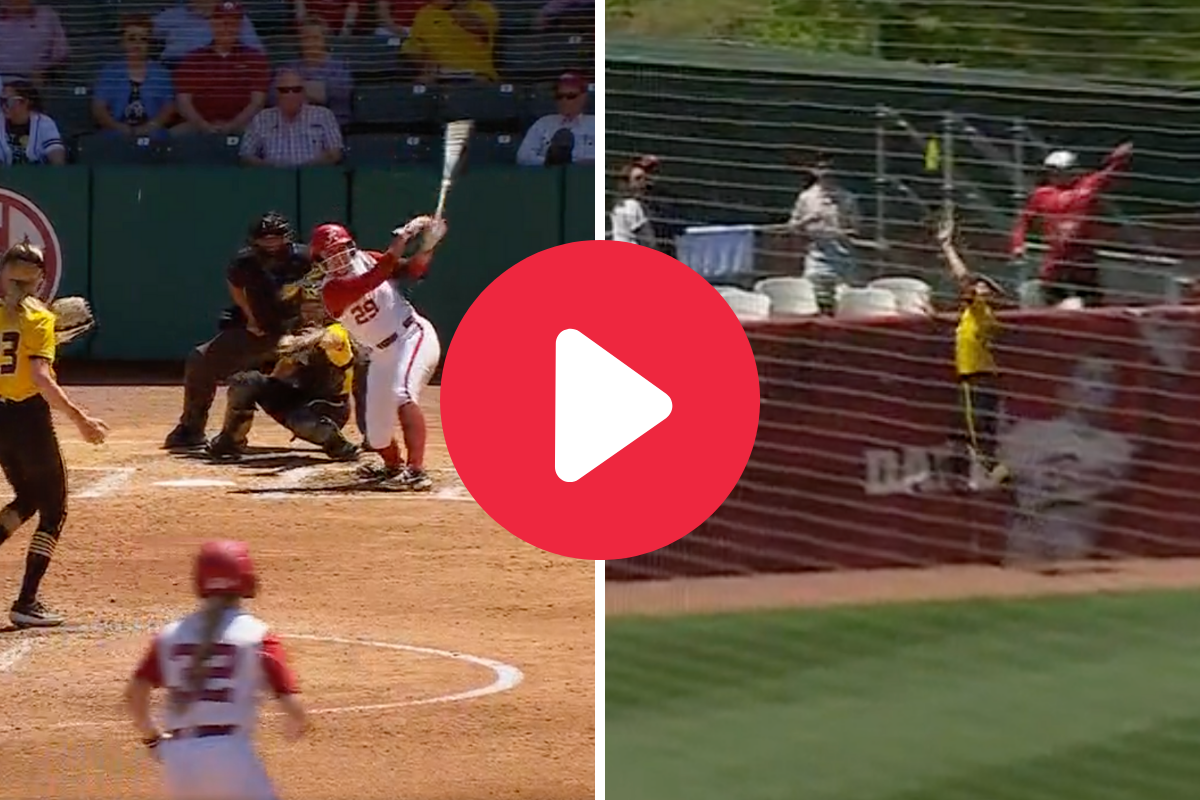 Screenshot from Twitter
Sometimes, the umpires just get it wrong. Like, really wrong.
Baseball fans who tune in for some Major League Baseball every night might be used to that. Angel Hernandez is quite honestly the worst umpires in the history of umpiring. And when it comes to softball, it's always sad to see a blown call affect the outcome of a game, especially the last one of the regular season.
Unfortunately, that's what happened when the Alabama Crimson Tide and Missouri Tigers got together on Sunday. Sadly, the call stood.
Ashley Prange's Controversial "Home Run" Against Missouri
RELATED: Dangerous Softball Collision Draws Passionate Plea for Rule Change From Alabama Coach
Alabama's Ashley Prange stepped in the box in the bottom of the fourth and cranked a 2-1 fastball from Missouri pitcher Jordan Weber deep to left field at Tuscaloosa's Rhoads Stadium.
Mizzou left fielder Casidy Chaumont leaped for the ball to try to rob it but couldn't come down with it. Umpires ruled it as a home run, assuming the ball had hit some part outside the stadium, potentially one of the white chairs beyond the wall.
It never did. The ball hit off Chaumont's glove and clearly bounced off the top of the wall before trickling back into the outfield. Replay made it obvious to the fans at home. The umpires had no idea.
The ball should've been considered in play still, but Alabama was awarded a home run — and a big one: a three-run home run that immediately put Mizzou in a 3-1 hole. The Tigers never recovered and ultimately lost the game by that score.
It was almost as if the umpires saw the entire Alabama team come out to celebrate and said, "well, shoot, there's nothing we can do now that they're already celebrating it!"
However, the call was not reviewable, which seems like a huge whiff on the NCAA's part. According to the rulebook, a home run like this isn't reviewable, while fair or foul calls are. Here's a screenshot from that rulebook that shows some of the plays subject to video review on a batted ball:

After the game, Missouri head coach Larissa Anderson hinted at the blown call but took the high road:
Maybe the call doesn't matter in the long run. We don't know. One run was at least going to score — if umpires had ruled it a ground-rule double after the fact, that still leaves the game tied and runners on second and third. Maybe Missouri escapes with the game tied.
It's just sad that the play wasn't reviewable and ultimately cost Missouri their final regular season game before the SEC Tournament gets underway.
Related Videos