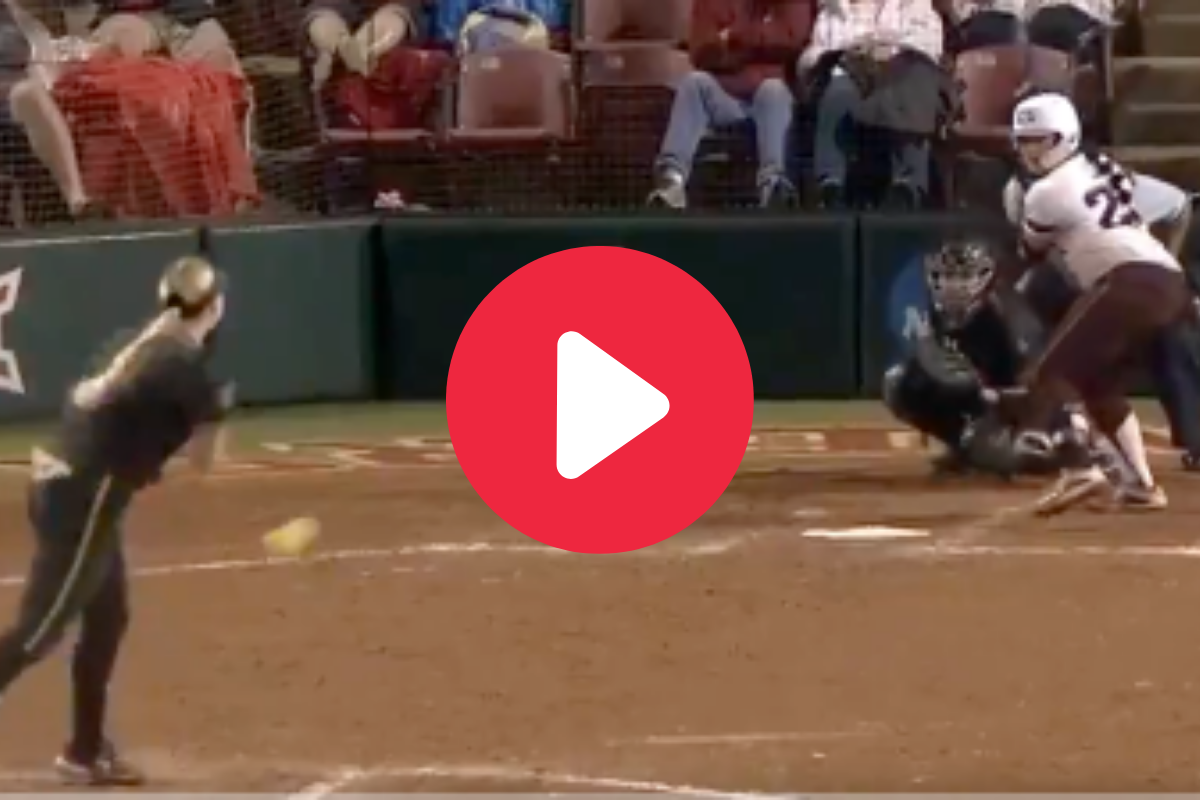 Screenshot from Twitter
Is it possible to shift beyond the fence?
Opponents have been asking umpires this whenever Texas A&M softball catcher Haley Lee steps to the plate.
All you need is a quick embrace and handshake to slip ole blue a fiver.
It's worth it.
Outfielders have a better chance of fielding Lee in the stands anyway.
She's a power-hitting machine, and the new A&M record holder for single-season home runs.
Haley Lee Breaks Texas A&M Single-Season HR Record
RELATED: Texas A&M Catcher?s Walk-Off Grand Slam Puts Her in Elite Company
Lee has been crushing it all season. She's been acing her exams, she's been waving to her fellow students on the way to class, she got a part-time at Hobby Lobby to practice framing.
The Kingwood, Texas native has also been crushing the ball.
Haley entered the Norman, Oklahoma NCAA Regional elimination game with 24 homers, tying the school's single-season record.
It would've been in the Wichita State Shockers best interest to pitch around Lee somehow. Two Aggies were on base, and Lee has proved she has the club to drive them in.
On a 3-1 count, Lee receives a knee-high pitch. She pulls out her 5-iron and laces it over the left-field wall, making program history in the process.
The ball was out before you could blink. There's a lot of talk about exit velocity these days, and I'm confident this destroyed the radar gun.
The dinger was the softball player's third home run of the day following two against Morgan State.
The long ball brought the College Station softball team within a run, but Wichita State ultimately came out on top by a score of 9-6 and ended the Aggies' College World Series hopes.
Texas A&M head coach Jo Evans spoke on Lee's accomplishment:
"What a tremendous accomplishment for Haley to break the Texas A&M single season home run record, especially considering all great power hitters who have worn the Aggie uniform, [said Evans]. I am proud of Haley. She processes the game at such a high level and it has been a thrill to watch her throughout this season. I love how happy her teammates were to celebrate her great accomplishment. I have no doubt that Haley will position herself as one of the best hitters to come through our program."
Lee's home-run total of 25 ties her for the second-most in the country. Oklahoma's Jocelyn Alo leads with 28.
Texas A&M's season is over. Though, there's a new name in the record book.