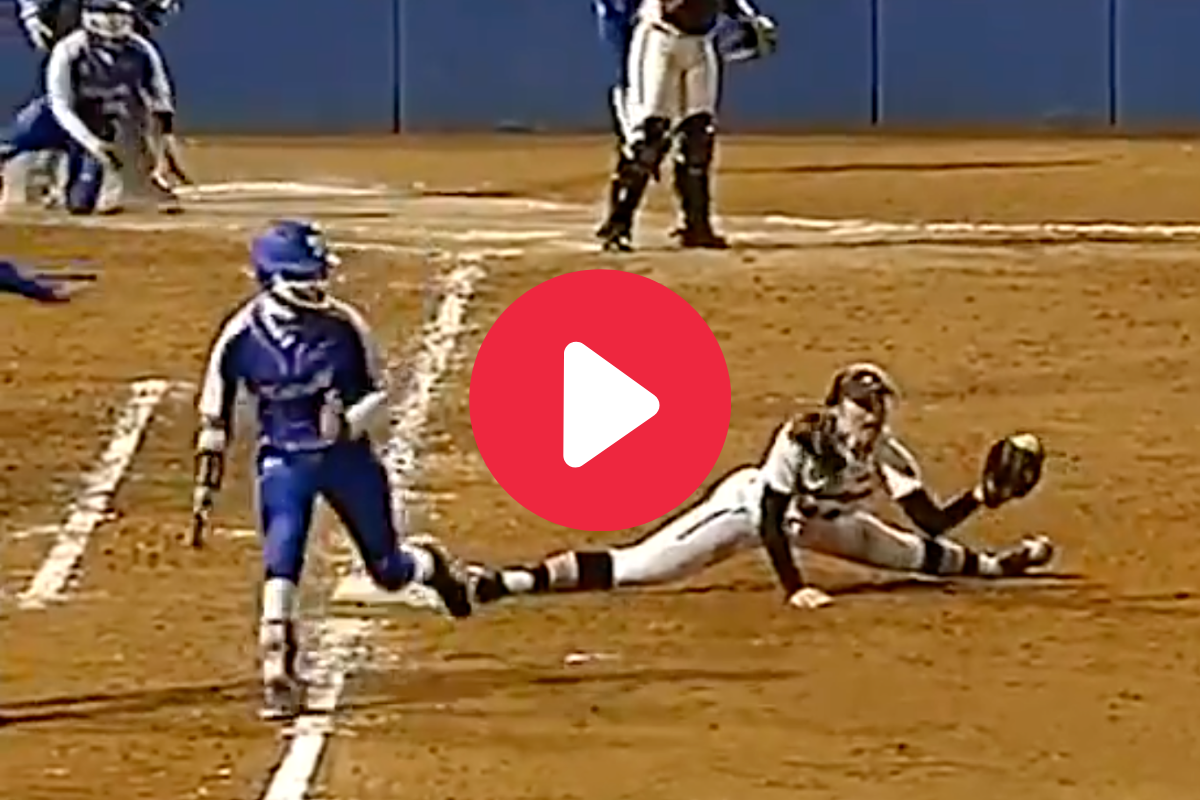 Screenshot from Twitter: SEC Network
Lacey Fincher has ice in her veins and most likely a rip in her pants.
Georgia softball was down big in the sixth inning on the road against the Kentucky Wildcats. Facing an 8-1 deficit, the UGA first baseman crushed a solo home run to spark what would up being an incredible comeback win capped by Sara Mosley's go-ahead three-run shot in the seventh.
When UK came to bat in the bottom half, they nearly tied the game if not for Fincher's incredible "Stretch Heard 'Round Lexington" and scoop at first base that ended the game in style. Hopefully she didn't tear a muscle or her pants in the process.
Lacey Fincher's "Stretch Heard 'Round Lexington"
RELATED: Georgia?s Pinch-Hit Walk-Off HR Shell-Shocked Florida
Kentucky was threatening after a leadoff double and a wild pitch. Georgia secured an out before head coach Lu Harris-Champer intentionally walked a batter to set UGA up for the double play.
Kenutcky's Tatum Spangler chopped a ball to Bulldogs second baseman Sydney Kuma. She quickly tagged second base and fired in Fincher's direction. Fincher completely stretched out like a gymnast performing a floor routine AND she scooped the low throw out of the dirt in the process. Plus, she kept her foot on the bag somehow.
Game over. Incredible.
Fincher's teammates mobbed her at first base. One Kentucky runner stood at home plate in disbelief. A UK coach tried saying she came off the base. Just like that, Georgia completed the improbable comeback after being down 8-1 late in the game. They won, 9-8.
Fincher wrote on Twitter that she was in some pain afterward.
"Hey @LaceyFincher3… I gotta ask… did this hurt? Even if it did… you made it look ROUTINE!" SEC+ commentator Sydney Littlejohn Watkins asked her.
"Hahaha a little bit!!! Thank ya!" Fincher responded.
Georgia won the next game to take the series to bring the Bulldogs to 6-6 in SEC play before a big series against top-ranked Arkansas next weekend.
Let's hope Fincher's legs have recovered by then.