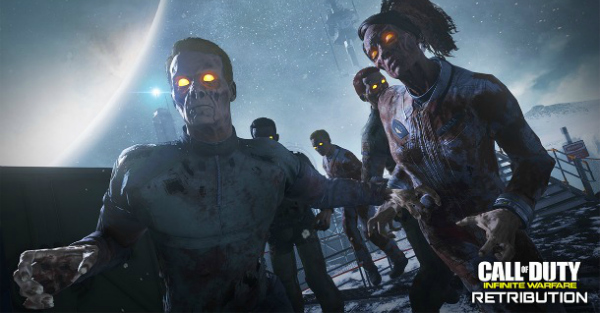 blog.activision.com
Call of Duty: Infinite Warfare's next downloadable content pack has been revealed. According to a trailer recently released over the series' YouTube channel, Retribution will reward purchasers with four new multiplayer maps, as well as the final chapter of the game's zombie campaign. Dubbed, "The Beast from Beyond," the mission takes place aboard an abandoned, undead-filled spaceship. Check it out:
First impressions seem to indicate a blend of the Killing Floor 2 setting mixed with a bit of  the Resident Evil movie, as lasers and a disembodied voice work to sabotage players and zombies alike. According to Activision's blog, The Beast from Beyond will once again feature Willard Wyler as the zombie series' antagonist. Apparently, Wyler has trapped players inside  "a desolate military station on a distant ice planet." The protagonists will have to make use of all new weapons and traps if they are to survive the zombie horde and escape Wyler once and for all.
Also included in Retribution are a series of new multiplayer maps. The first of these is "Carnage," which is described as a "post-apocalyptic race track along the California coast." Carnage is characterized with long sightlines and dangerous, environmental hazards, which players can utilize to set their enemies alight.
Then, there's "Heartland," an American small town simulation modeled after the Warhawk map from Call of Duty: Ghosts, "Altitude," a high-end shopping mall where quick flank routes are the surest path to success, and "Depot 22," which features mid-to-close-ranged encounters across a three-lane map. For more details about each of these maps, be sure to check out the full blog post.
Call of Duty: Infinite Warfare's Retribution DLC pack is set to release on September 12 for the PlayStation 4. Though a price hasn't been set yet, previous releases have cost $15, so this one is likely to follow suit.