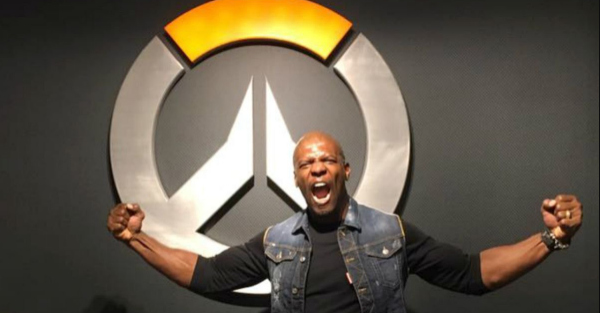 Z3nPunk/Twitter
Former NFL player and famous actor Terry Crews is most well-known for his boisterous, energetic roles that are just as frequently observed in comedies as they are in action movies. Perhaps not as popular is his recent interest in video games, which catapulted the man into Internet stardom after he released a Facebook video about PC gaming in July, 2016.
The video featured Crews? humble request for help in designing his own gaming computer, which he hoped would further involve him in his son?s hobbies. Similar posts would soon follow, inspiring quite the following both on Reddit and YouTube, and while Crews eventually succeeded in creating an impressive rig, his popularity would linger.
This fame eventually resulted in a post on the Overwatch subreddit by one fan emphasizing his desire to see Terry Crews as the voice actor for the mysterious hero Doomfist, to which Crews responded with his trademark enthusiasm.
Since that fateful day, the community has pieced together a number of hints regarding Crews? potential involvement in the creation of Overwatch?s next hero. In December of last year, Cinematic Project Director for World of Warcraft posted a sighting of Terry Crews at Blizzard?s HQ on Twitter.
This, when combined with Crews? own personal interest in the game alongside Overwatch Director Jeff Kaplan?s vague response on the subject, have left the public?s speculation running wild.
All doubt seemed to vanish however when Terry Crews would release yet another video this past Friday on his Facebook page. This video, which at first seemed dedicated to showing off his new PC and office setting, took a promising turn at about eight and a half minutes in, when Crews announced he would be at E3 2017 with ?a major, major surprise.?
As E3 is scheduled for June 13-16, it will a while yet before we get confirmation on the actor?s true level of involvement. For now, be sure to keep an ear out for any future updates regarding the Internet?s new favorite celebrity.
Follow Terry Crews and Overwatch on Twitter, and stay tuned for any related news.