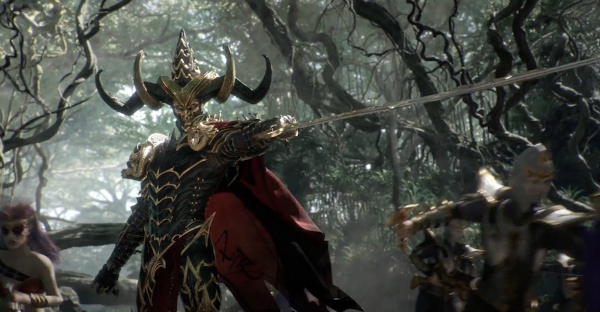 Total War/YouTube
As we inch ever closer to the release of Total War: Warhammer 2, more and more media content is regularly released featuring the game's many new features. The latest result of Creative Assembly's marketing frenzy is a developer video showcasing some of the more noteworthy aspects of the Dark Elf campaign, including insight into Warhammer 2's signature vortex objective. Take a look:
Unlike previous installments in the Total War franchise – which have always steered the player into conquering as much territory as possible – Total War: Warhammer 2 has provided a unique, new objective for the game's factions to vie over: the Great Vortex. This magical maelstrom drains all excess magic from the world and, as such, has caught the eye of the four dominant races in the nearby continents.
While we already knew about the Vortex, the details of how Warhammer 2's factions intend to grapple for it have alluded us until just today. Dark Elves, like their High Elf counterparts, will have the ability to perform rituals that accelerate their progress towards controlling the Vortex. This is done through acquiring a special type of "ritual resource," which can be gathered after capturing select settlements.
Beware, however; factions set to complete one step of the long road to victory will incur the wrath of enemy factions. AI-controlled armies will begin rapidly appearing in your territory as they throw everything they have into preventing your success. This goes both ways too; you can call for intervention forces to appear outside enemy settlements to slow and potentially halt their progress towards the Vortex. These forces have three separate tiers, with each tier supplying stronger units and subsequently requiring higher sums of money.
In addition to the above, there's also quite a few new mechanics in place not just for the Dark Elves, but for all factions of Warhammer 2. For example, Legendary Lords can now rank up as high as level 40, and have been provided a number of choices in their skill trees to compensate for this. There's also sunken treasure ships out at the sea that provide wealth and growth, rogue armies comprised of units from various different races that will pillage and plunder your land, and new user interface options for the "End Turn" screen that can expedite the process or elaborate on existing information.
As for Dark Elves in particular – many of their highly-anticipated aspects from Warhammer lore have made it into the game. For example, Dark Elves have access to unique, massive ships called "Black Arks" from which they can replenish units, recruit new ones, and bombard enemy towns during battle (think of the bombard mechanic from Fall of the Samurai). These ships can be acquired through special slave-sacrificial "rites." Additional bonuses from these rites include significant campaign buffs to income, unit experience, magical resources, and public order.
Last but not least, Dark Elves get special "names of power" for their Lords that help decide their functionality. These names can provide special traits to the Lord that bolster various aspects of their faction. In the above video, the developer chooses an aristocratic name that awards the Dark Elves extra income and settlement order.
Total War: Warhammer 2 is set to launch on September 28, 2017 for the PC. For more information about the title or about any of Creative Assembly's other products, visit the official Total War website, or follow the studio over their various social media outlets.