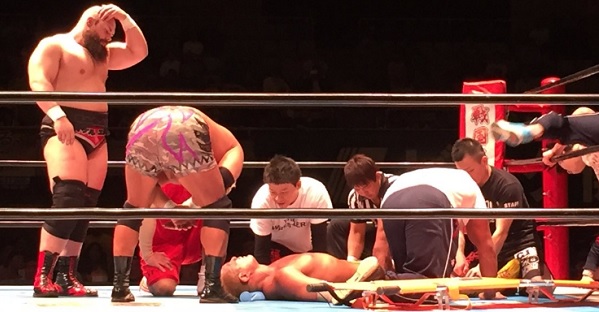 Twitter/@kannakunihiro
One of the worst injuries in pro wrestling has taken a promising turn.
New Japan Pro Wrestling (NJPW) star Tomoaki Honma suffered a broken neck back in early March, and the initial fear was that Honma could potentially be paralyzed by the injury. However, Honma has reportedly undergone surgery to repair his neck, and the surgery was successful.
Honma has reportedly begun rehab, which has involved lifting his legs.
Honma suffered an injury to the C3 and C4 vertebrae in his neck after a botched DDT led to him landing on his head. After the move, Honma was motionless in the ring and the match was stopped so he could be rushed to a hospital in Okinawa.
An update a day later revealed that Honma still had no feeling in his extremities, and that he was only able to speak and slightly move his head. Those conditions meant that he could not be moved from the hospital in Okinawa until his condition improved recently.
Honma, 40, is a 20-year veteran of pro wrestling in Japan. He was scheduled to challenge for the IWGP tag team titles with Togi Makabe before his injury.