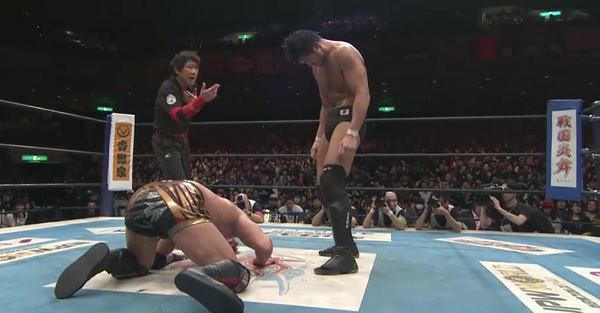 New Japan Pro Wrestling
As more times goes on, it seems like the reported injury news continues to get worse for New Japan Pro Wrestling (NJPW) star Katsuyori Shibata.
On April 9, Shibata wrestled in the biggest match of his career, facing IWGP Heavyweight Champion Kazuchika Okada in a title match at the Sakura Genesis show. Shibata lost, and afterwards, NJPW reported that he had suffered a subdural hematoma (bleeding between the skull and the brain) during the match, with Tokyo Sports saying that Shibata collapsed backstage afterwards and had to be rushed to the hospital for an emergency five-hour surgery. Shibata reportedly suffered partial paralysis on the right side of his body in addition to issues with his memory.
According to STRIGGA of PuroLove.com and Major League Wrestling, Shibata is still handicapped on the right-side of his body following the injury, and that he is expected to undergo another surgery soon.
While it is not definitive, many are led to believe that the injury happened during this headbutt that occurred 30 minutes into the 38-minute classic match against Okada.
Subdural hematomas can often be fatal if not treated properly, and it is expected to be career-ending injury in Shibata's case.
This is the second time in Shibata's career where someone has suffered a traumatic head injury during a match; the first being back in 2000 when Masakazu Fukuda passed away after suffering an injury against Shibata after a flying elbow gone wrong.
This is also the second serious injury for NJPW recently as Tomoaki Honma suffered a severe neck injury in March that left him paralyzed for several days. Honma has since undergone surgery and he has regained movement in his extremities.
Shibata is a former three-time NEVER Openweight Champion and tag team champion in NJPW. He had recently won the 2017 New Japan Cup, which had granted him a match against Okada for the IWGP Heavyweight Championship — the most prestigious title in Japan.