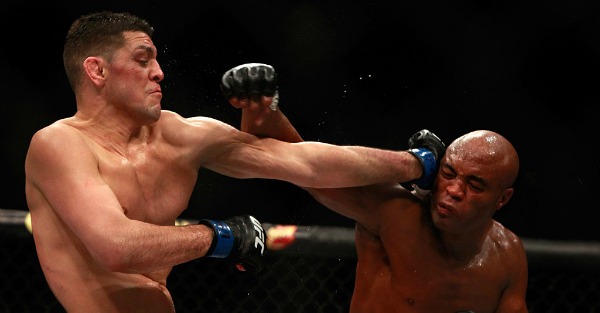 Steve Marcus/Getty Images
Anderson Silva and Nick Diaz in their middleweight bout during UFC 183 at the MGM Grand Garden Arena on January 31, 2015 in Las Vegas, Nevada. *** Local Caption *** Anderson Silva; Nick Diaz
Nick Diaz, the brother of Nate Diaz who just lost his UFC rematch to Conor McGregor over the weekend, was hoping to return to fighting sometime soon. He just wasn't counting on it happening outside of the Octagon, and against four people no less.
Diaz got into a wild melee early Wednesday outside of Hyde, a club located in Las Vegas casino Bellagio. TMZ Sports reports that Diaz bumped into another man on his way to the bathroom around 2:30 a.m. Diaz apologized and told the man that he didn't want any trouble, but the man and three others jumped him, per the report.
"I didn't start it," Diaz told TMZ. "People like to hate."
Diaz, a former MMA fighter who once challenged for the UFC welterweight title, said he didn't think the men knew who he was. He said the men swung chairs in the fight, that also included some of the club's employees. Diaz said he did not plan to press charges, adding "They got the worst of it."
RELATED: Nate Diaz could face a 1-year ban after this post-fight video
No injuries were reported but according to TMZ, Diaz had a substantial cut on his head that could require stitches. But after this and the scuffle that broke out between Team Diaz and Team McGregor at their pre-fight press conference last week, he should probably get out of dodge immediately. Bottles were thrown and insults hurled in the incident, which ended with members of both entourages being banned.
Diaz just emerged from a suspension by the Nevada Athletic Commission (NAC) for failing three drug tests in 2015. He was suspended for 18 months and fined $100,000. His suspension ended last month and he's expected to return to competition soon, but a fight has not been announced.