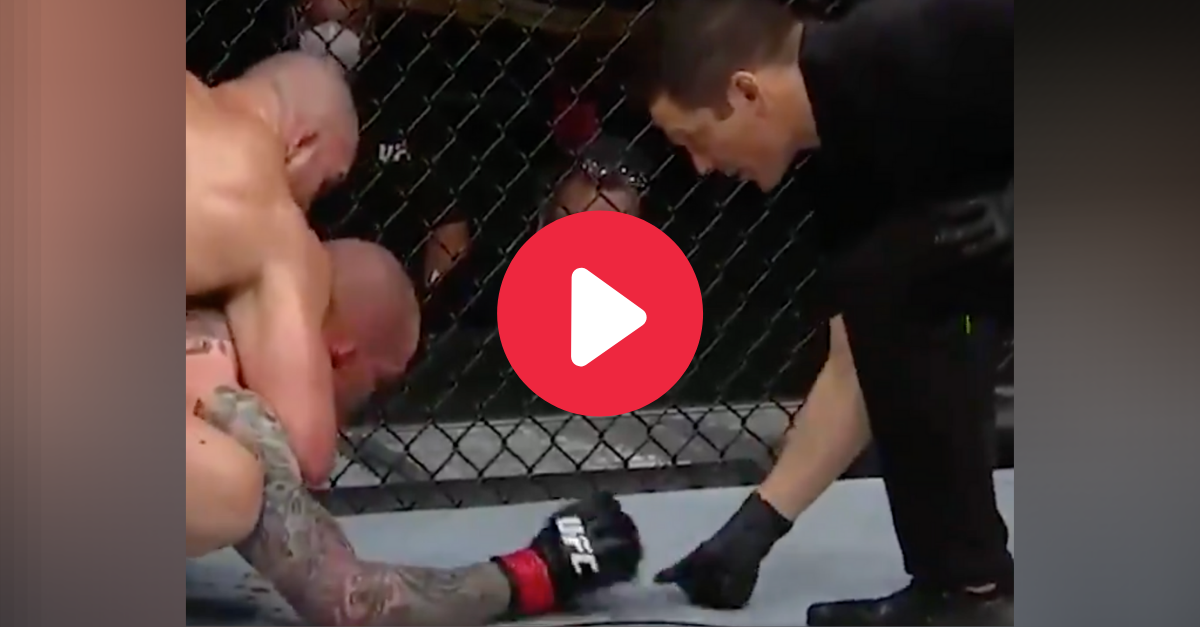 Screenshot from Twitter
In UFC, getting your ass kicked is part of the job. It?s not fun, obviously, but it?s the risk every single MMA fighter takes before stepping into the octagon. Some beatings are more vicious than others, but perhaps nobody got it worse than Anthony Smith.
At UFC on ESPN+ 29 in Jacksonville, Florida, Glover Teixeira defeated Smith in the light heavyweight main event bout on Wednesday night. It was more than just a TKO loss in the fifth round, though. It came with some significant injuries.
According to ESPN?s Ariel Helwani, Smith suffered a broken nose, broken orbital bone, a cut under his right eye and two missing teeth.
HIS REAL TEETH. And he even handed one to referee Jason Herzog while taking more punches during the fight.
Anthony Smith Loses Teeth at UFC Jacksonville
RELATED: UFC Fighter?s Lip Explodes From Massive Right Hook
The UFC main event fight was intense. There?s no better way to put it. Both Lionheart Anthony Smith and Glover Teixeira were going at it in a big-time way, exchanging blows in the first three rounds.
Then, in the fourth round, the entire fight changed. The 40-year-old Teixeira came out with a vengeance and started landing some serious blows on Smith. At one point, Lionheart even handed his missing tooth to the referee.
With no crowds on hand due to the coronavirus pandemic and COVID-19, everything inside the octagon could be heard clear as day. And at the end of the round, Smith told his trainers that his teeth were falling out.
Somehow, Smith?s corner allowed their UFC fighter to return to action and the fight went into the fifth round. It didn?t last long, however, and Teixeira was awarded the victory at VyStar Veterans Memorial Arena.
"I didn't think his corner was going to let him come out," UFC President Dana White said, via CNN. "But that's between them and their corner. And then the ref could have stopped that in the fourth too. Us sitting on the outside it was a little tough to watch.?
Whether the fight should have been stopped sooner is irrelevant at this point. It happened, and there?s nothing anyone can do about it after the fact. Let?s just hope Anthony Smith recovers quickly and can return to fighting in the near future.