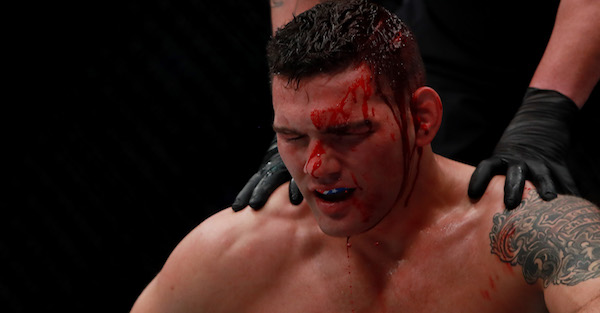 Michael Reaves/Getty Images
NEW YORK, NY - NOVEMBER 12: Chris Weidman of the United States sits on the floor after his KO defeat to Yoel Romero of Cuba (not pictured) in their middleweight bout during the UFC 205 event at Madison Square Garden on November 12, 2016 in New York City. (Photo by Michael Reaves/Getty Images )
Yoel Romero showed exactly why he deserves a shot at Michael Bisping's middleweight championship at some point in the future in a vicious knockout of fellow contender Chris Weidman.
Weidman tried to work down Romero with his wrestling techniques and a few well-timed body shots, but the middleweight contender needed just one opening to knock out the former champ with a flying knee.
After the win, Romero pointed to Bisping, who was doing broadcast duties for Fox Sports 1. The champ gave him the double middle finger while mouthing, "F*** you." He then pretended to inject his buttock, a clear shot at Romero after the top contender was suspended for six months following a failed USADA test due to contaminated supplement.
As of this writing, Romero has not been named the next challenger for Bisping's belt.