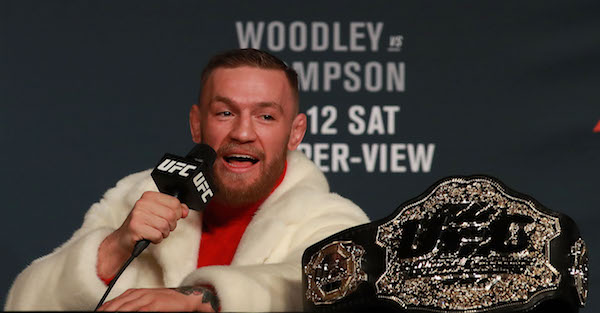 Michael Reaves/Getty Images
NEW YORK, NY - NOVEMBER 10: UFC Featherweight Champion Conor McGregor addresses the media during the UFC 205 press conference at The Theater at Madison Square Garden on November 10, 2016 in New York City. (Photo by Michael Reaves/Getty Images)
Conor McGregor may be the biggest star in mixed martial arts, but it looks like the featherweight and lightweight could be willing to jump to a completely new line of work.
For the right price, of course.
According to ESPN, McGregor is weighing his options for his UFC future, which is currently on hold as he takes a break ahead of the birth of his child. Per McGregor's agent, McGregor is at least willing to hear out an offer from WWE, especially if the money is right.
According to his agent, Audie Attar, who appeared Tuesday on ESPN's 5ive Rounds podcast, it's something McGregor is willing to entertain — as long as the money is right.

"I think it's all about business, man," Attar said. "If [WWE] is going to come with an offer, we are willing to entertain it. We are here. Have their people call his people — which is me. We can have a conversation."
Related: Dana White makes announcement on Conor McGregor?s UFC status
McGregor certainly wouldn't be the first legitimate combat athlete to make the move to the squared circle. Muhammad Ali, Ken Shamrock, and Brock Lesnar have all participated in pro-wrestling before, and it looks like McGregor is at least willing to entertain an offer to do the same if the money is right.
McGregor has already forayed into WWE before with some trash talk to the current roster of pro-wrestlers, so the angle is already ripe for him to at least make an appearance on WWE television at some point.