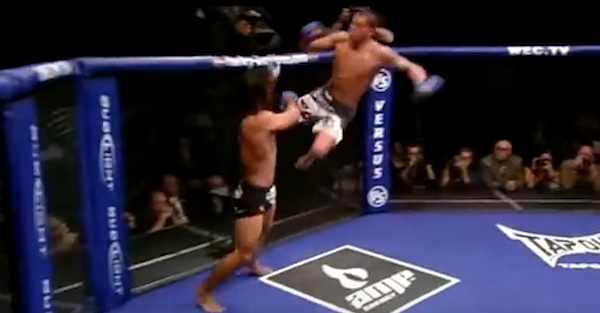 YouTube/screenshot
The final World Extreme Cagefighting event before their merge with the UFC gave us one of the most memorable moments in MMA history.
Benson Henderson battled Anthony Pettis for the WEC lightweight championship on December 16, 2010, where the winner would fight the winner of UFC 125's Frankie Edgar-Gray Maynard bout for the UFC lightweight championship.
Pettis would battle Henderson to a unanimous decision victory, but his fight will mostly be remembered for this insanity:
"Showtime" would go on to lose by decision in his UFC debut against Clay Guida (Edgar-Maynard went to a draw, forcing a rematch).
Pettis later won the belt at UFC 164, where he submitted Henderson. He would successfully defend his belt once (against Gilbert Melendez) before losing to Rafael dos Anjos.
Related: Anthony Pettis disrespected Max Holloway before the fight, and paid for it in a TKO featherweight title loss
Pettis attempted a drop down to bantamweight at UFC 206, and lost by TKO to Max Holloway.