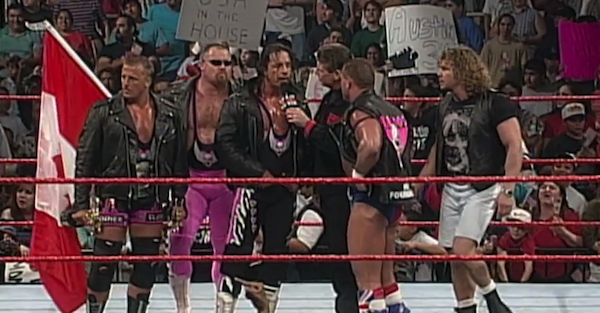 WWE Network/Screenshot
"Flyin'" Brian Pillman may not have gotten the love he deserved as a brilliant professional wrestling mind during his time, but his legend has only grown since his untimely death in 1997.
Despite his death at just 35 years old, his son, Brian Pillman Jr. has reportedly taken up on his father's legacy and begun training for the squared circle.
Former pro wrestler Lance Storm reportedly responded with an email, but it appears Jr. is taking the steps toward making it in the business. According to the Wrestling Observer, via Uproxx, Jr. was a standout athlete on his high school football team.
The report also notes the 23-year-old Pillman Jr. is the second Pillman prodigy to try their hand at the craft, as his stepsister Alexis started training and worked the indy scene before tragically dying in a car crash at just 26 years old.
Pillman's father, Brian Pillman, wrestled from 1986-1997. He was involved in plenty of storylines over his career, but arguably the most gripping and shocking of them all was his rivalry with "Stone Cold" Steve Austin:
He passed away due to a heart attack in his hotel room. Cocaine was reportedly found in his system as well.
Here's to hoping for the best for Pillman Jr.!