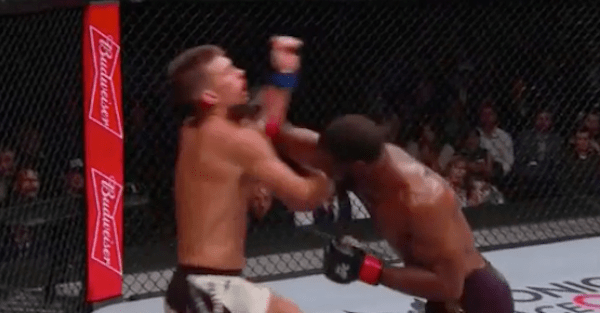 Streamable screenshot
After his stunning first-round knockout of Robbie Lawler in July, Tyron Woodley (17-3) successfully defended his title thanks to a majority draw in his first UFC welterweight title defense against Stephen Thompson (13-2) at UFC 205 in New York.
The first three rounds were near even other than a vicious first round where the champ took down "Wonderboy" Thompson and opened up his head with a nasty shot across the nose.
The fourth was nearly all Woodley, as the champ notched two knockdowns with absolutely vicious blows before locking in a guillotine that seemed to have the fight finished. Thompson outlasted the choke and finished the fourth round on top, throwing heavy blows and somehow surviving the round.
Woodley won after two judges had the contest a draw at 47-47, and just one judge had the contest 48-47 in favor of Woodley.
In the world's most famous arena, the fight will go down as one of the best ever.