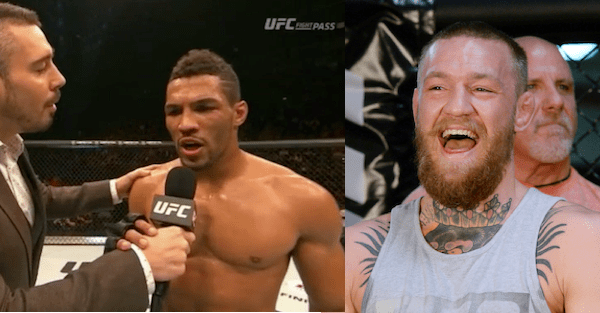 UFC screenshot/Kevork Djansezian/Getty Images
Conor McGregor embarrassed the UFC lightweight division when he picked apart Eddie Alvarez to a breeze of a win Saturday night, becoming the organization's first champion to hold belts in two weight classes.
Related: Conor McGregor makes UFC history in TKO victory over Eddie Alvarez
But chalk up one lightweight competitor, unranked Mike Lee (14-2), as someone who isn't impressed by the Notorious one's performance.
After choking out Magomed Mustafaev, Lee called out the champ, McGregor after saying he was the best fighter and the best wrestler in the division.
Lee has lost two bouts in the last two years (TKO in December 2015 and decision in February 2014), but he's currently on a three-fight win streak.
He's a solid fighter and has great technique, but he's not on the level of Khabib Nurmagomedov, nor any of the top five fighters in the division. It's a nice try to get his name value up though.