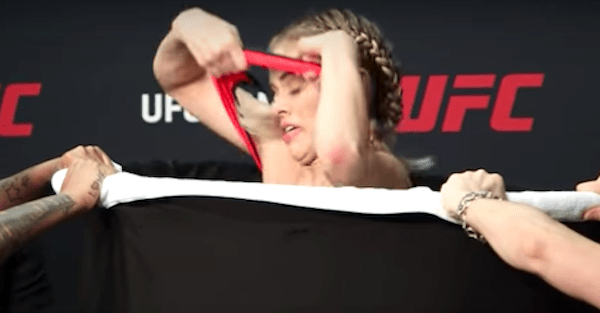 We see it all the time, as MMA fighters typically have to cut insane weight in the week and days leading up to their bouts. And UFC fighter/Dancing with the Stars standout Paige Van Zant was just the latest to have to strip behind the black sheet in order to make weight for his 115-pound bout with Michelle Waterson (UFC allows a one-pound allowance in non-title fights).
As Van Zant prepared to get her clothes back on, she chirped to the crowd, "You'll have to pay more for that! Just kidding." (H/T Uproxx)
She's lucky, however, that UFC now has a black cloth surrounding the fighter. That wasn't always the case.
Van Zant will battle Waterson Saturday night at UFC on Fox 22. The main card starts at 8 p.m. ET.