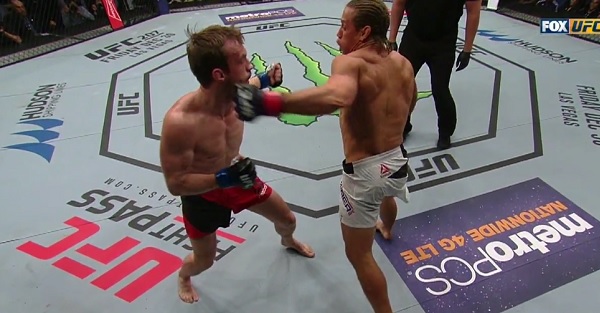 Clippit/Screenshot
There's nothing like getting a win in your hometown to end your career.
MMA legend Urijah Faber (34-10-0) officially retired from UFC on Saturday night with a big win over Brad Pickett (25-13-0) by a 30-26 unanimous decision.
Faber came out to raucous cheers from the Sacramento crowd, as the "California Kid" had made it clear beforehand that this would be the final fight of his career. Up against another veteran in Pickett, Faber scored a big 10-8 win in the first round thanks to this massive left-handed hook that knocked Pickett to the crowd.
Related: UFC standout Paige Van Zant had to remove every piece of clothing to make weight ahead of fight
The knockdown allowed Faber to dominate the entire round, and Pickett was never able to recover from the ground and pound game after that punch. Pickett was clearly developing swelling on his face throughout the rest of the fight, and Faber was able to cruise to the 34th victory of his professional fighting career.
Faber, a submission specialist, rose to fame in the late-2000s in the now defunct WEC promotion. Faber fought at featherweight and bantamweight throughout his lengthy career, and he is considered a major factor in getting the smaller weight classes over with the national audiences.
Faber won't be completely out of fighting, as he is still the head of "Team Alpha Male", which includes other pro-fighters like Chad Mendes, T.J. Dillashaw, and Paige VanZant.