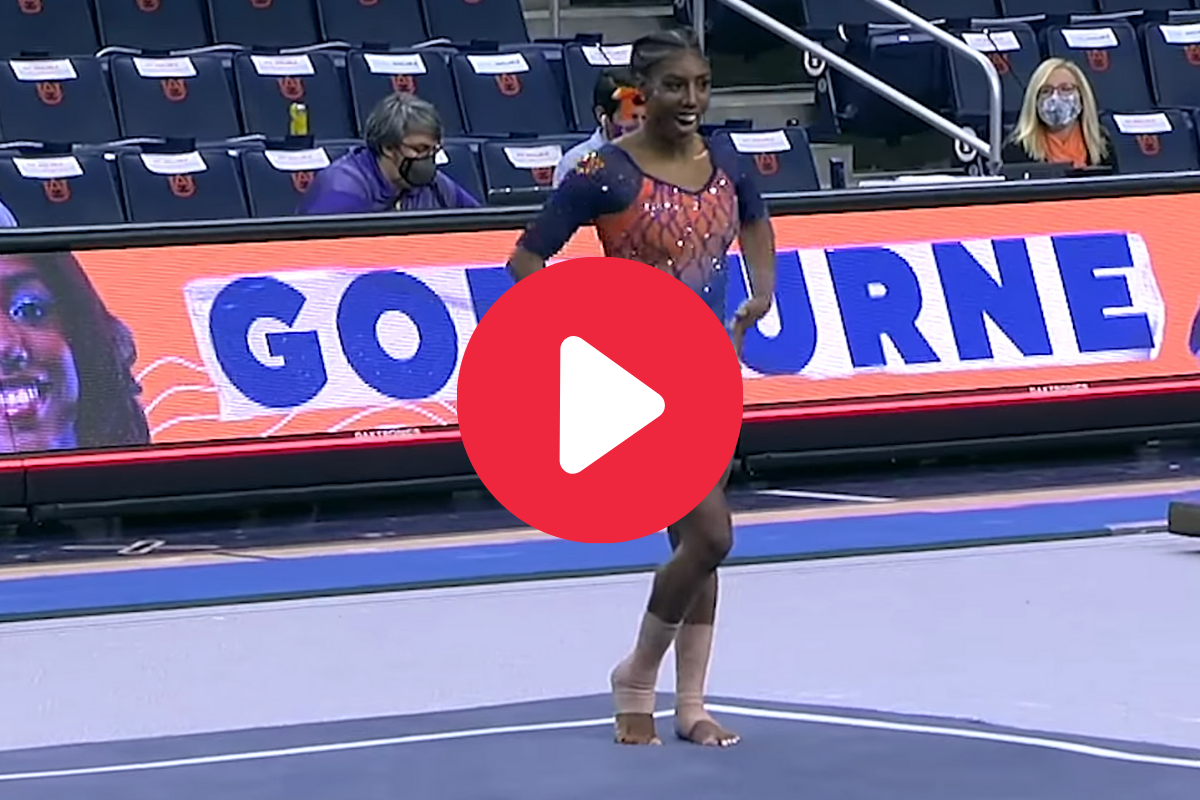 Screenshot from Facebook: SEC Network
Auburn gymnast Derrian Gobourne is quickly becoming a legend in the school?s program history. Back in 2019, she became the Tigers? very first national champion when she took a share of the vault individual title at the NCAA Championship.
Vault isn?t the only event the 5-foot-4 athlete excels at. Gobourne performs in other events like bars, beam and her very favorite: floor. A year ago, she nailed her Beyonce, flip-filled routine to walk-off against Alabama in the "gymnastics Iron Bowl," marking just Auburn's second win over the SEC rival in 40 years.
In 2021, she's back with a fun, 90s-themed floor routine that's already turning heads. In a home meet against LSU, it landed her a career-high score and likely had the crowd at Auburn Arena singing along.
Derrian Gobourne's 1990s Floor Routine
RELATED: Auburn?s ?Gymnastics Iron Bowl? Walk-Off Floor Routine Never Gets Old
How's that for having fun?
Derrian Gobourne practically turned the floor into a dance floor. The gymnast boogied and soared through the air to some classic 1990s hits like Salt-N-Pepa's "Push It," Will Smith's "Gettin' Jiggy Wit It," the 69 Boyz' booty-popping ode "Tootsee Roll" and even "Take It To Da House" by Trick Daddy.
It's safe to say she took this routine to the house.
After Gobourne's final double back pike pass, judges gave her a 9.975. One (correct) judge even scored her a perfect 10. That marked a career-high for her in any single event. I think it's fair to say Gobourne should be called "Go-Airborne."
After her impressive meet against LSU that included a season-best 9.9 on vault and a 9.9 on bars, Gobourne was named the SEC Specialist of the Week.
Auburn gymnastics may still have zero wins this season, but it has a star in Derrian Gobourne. All that she needs for this 90s throwback routine is a few scrunchies and some acid-wash jeans to really take us back in time.