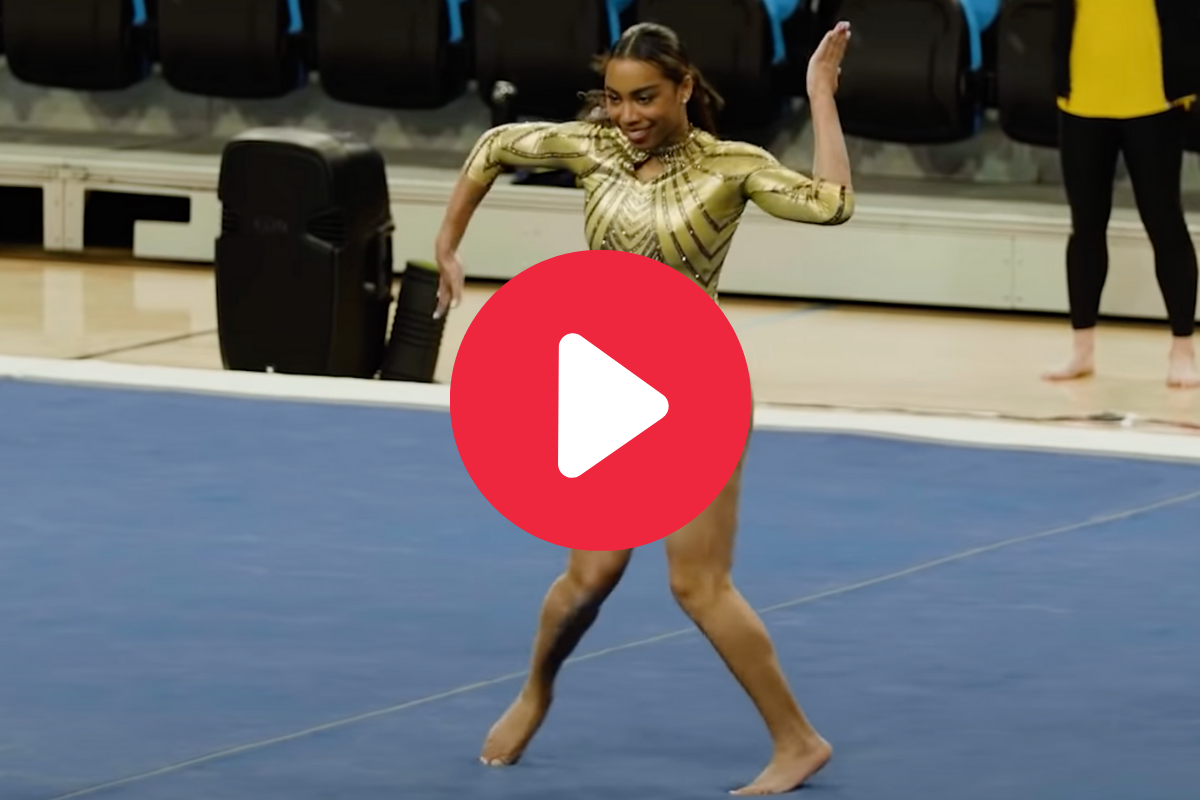 Screenshot from YouTube
UCLA gymnast Margzetta Frazier went viral for her impressive floor routine set to a medley of Janet Jackson songs, including the hit song, "Nasty."
Her routine was loaded with impressive flips and choreography of Jackson's own moves inspired from the pop star's music videos.
Frazier's floor exercise caught the attention of many on the Internet, but no one was more impressed with the viral floor routine than Janet Jackson herself.
Margzetta Frazier's Janet Jackson Routine
RELATED: UCLA Gymnast Delivers Viral ?Dance Party? Floor Routine
The 20-year-old earned a phenomenal score for her dance moves and floor exercise at the NCAA event against BYU, but the best part for the UCLA gymnastics star was the response she got from Jackson.
Jackson loved the routine so much that she reached out to Frazier via a FaceTime call to show her appreciation.
Additionally, Jackson shared Frazier's video of the routine, which was originally captioned, "new @janetjackson floor routine, same @iammargzetta," on social media, writing "#iLuvIT" and tagging Frazier's Twitter account.
The University of California at Los Angeles' star gymnast told the Los Angeles Times that Jackson is the reason she began dancing, so receiving the surprise call from the pop icon was a clearly an invaluable moment for her.
Speaking on the UCLA Bruins' star's floor routine, Jackson said, "And when I watched it, I began to cry. I was so thankful to God for all that he has allowed me to do and given me. And just to see the work that I've done, the young generation still having fun with it the way that I did and still do 35 years later."
After receiving the call from Jackson, a motivated Frazier scored two of her career-best performances against the University of Utah.
Frazier isn't the only Bruin to get attention for a floor routine this year. Olympic gymnast Simone Biles recently shouted out UCLA gymnast Nia Dennis for her incredible floor routine featuring songs by Kendrick Lamar, Beyonce and Tupac Shakur.
It's been an incredible start to 2021 for UCLA. The program's gymnasts team has gained national recognition and the men's basketball team is headed to the Final Four following a victory against Michigan in March Madness.
There's likely even more to come.