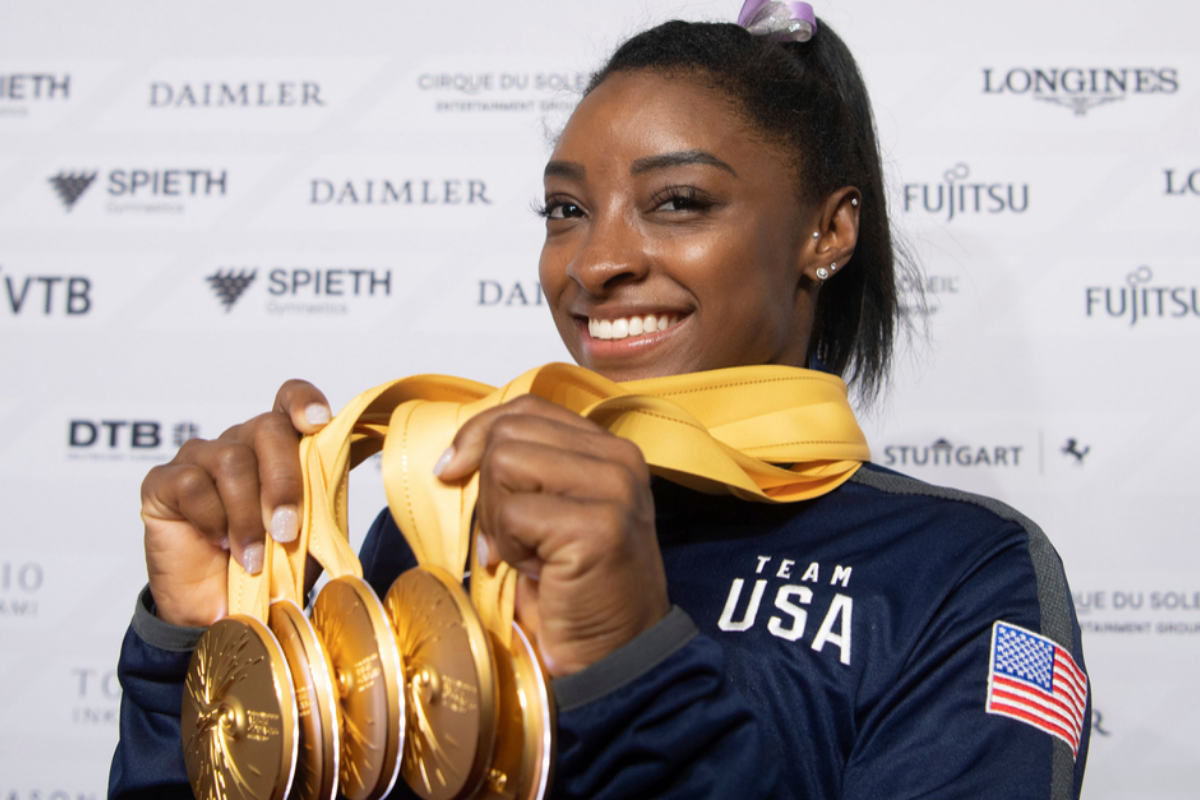 Marijan Murat/dpa via AP
Simone Biles rose to stardom when she competed for the United States' gymnastics team at the 2016 Olympics in Rio de Janeiro in Brazil.
Biles' performance won over the hearts of millions of Americans as she gracefully crushed various events en route to multiple gold medals.
While Biles is the face of the U.S. national team, the 23-year-old female gymnast isn't quite as wealthy as some fans may have expected, though her fortune is sure to grow as she continues her career.
Early Life
Simone Arianne Biles was born in Columbus, Ohio, but grew up going in and out of foster care, along with her three siblings. Her grandfather, Ron Biles, adopted her when she was three, moving her out to Houston, Texas.
She first tried gymnastics when she was six years old after impressing staff at a day-care field trip, and began training at Bannon's Gymnastix. When she was eight, Biles began training with professional coach Aimee Boorman.
Professional Career
RELATED: Simone Biles Takes Off Sweatpants Upside Down in Handstand Challenge
Her first junior competition was at the 2011 American Classic in Houston, Texas when she was just 14. She won the competition in 2012 and secured a spot in the USA Gymnastics National Championship. Biles then won the U.S. Classic in Chicago and earned a spot on the U.S. Junior National Team.
Biles made her senior debut at the American Cup in 2013, where she finished second. She then competed for Team USA at the 2013 City of Jesolo Trophy in Italy, where she played a key role in achieving a team gold medal. Later that year, Biles was crowned the national all-around champion after placing first at the USA Gymnastics National Championships.
In 2014, the American artistic gymnast played a pivotal part in Team USA's victory at the World Artistic Gymnastics Championship in Nanning, China, winning her second consecutive world all-around title and becoming the second African-American woman to repeat as all-around world champion.
Biles was sensational for the United States in the 2016 Summer Olympics, dominating in all four events — vault, floor exercise, balance beams and uneven bars. She helped the U.S. team become gold medalists, and earned individual all-around Olympic gold through her performance at the Olympic Games, and rose to superstardom.
Following her sensational run at the Olympics Biles was named Sportswoman of the Year by the Women's Sports Foundation and the 2016 AP Female Athlete of the Year. She also won it in 2019 after he performance at the World Cup.
Throughout her prolific career in gymnastics, Biles has earned the most World Medals and World Gold Medals of all time. Her 19 gold medals is the most by any female gymnast in history in World Championship history, and she is also the first woman to win five World All-Around Titles.
Her performance in gymnastics has seen her popularity skyrocket, and the star gymnast boasts an impressive social media following with almost four million followers on Instagram.
Simone Biles' Net Worth
The 23-year-old gymnast has earned a variety of endorsement deals from her gymnastics career, including sponsorships from Nike, Hershey, Kellogg, Procter & Gamble, GK Elite Sportswear, Beats by Dre, and Octagon.
According to Celebrity Net Worth, Biles has an estimated net worth of $2 million, a figure that seems a bit lower than many may have expected for such a prominent figure. Most of her fortune has been built through endorsements and prize money from competitions.
Biles is sure to be back on the mats soon and stunning fans with her incredible performances.