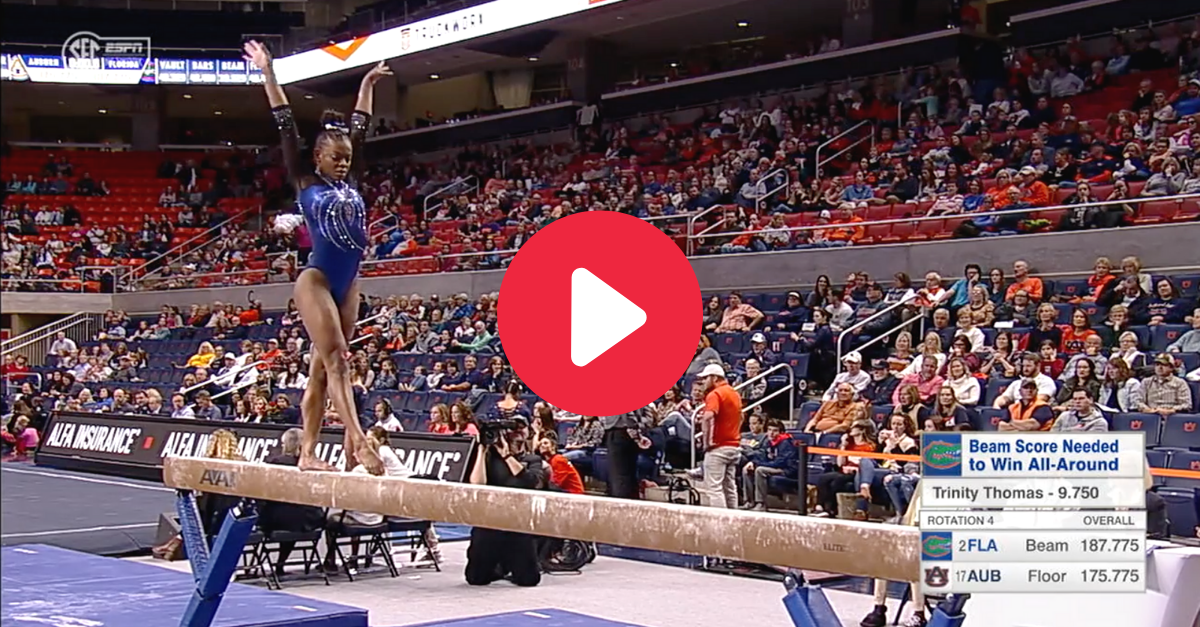 Screenshot from YouTube: Florida Gators
Florida Gators gymnast Trinity Thomas is quickly making her case for the NCAA's top individual gymnast. The native of York, Pennsylvania, is no stranger to the spotlight, though. She's competed in Japan, Italy and Peru as a member of the U.S. Senior National Team and is the only person in the country who can say she's a member of an NCAA program and the U.S. national team, which includes someone named Simone Biles.
2019's SEC Freshman of the Year and Southeastern Conference vault champion was a five-time All-American despite somehow not scoring a single perfect 10. Don't get me wrong on that. Perfect scores are hard to come by, and most of those scored in 2019 came from someone at UCLA — namely Katelyn Ohashi and her viral floor routine.
It's even more rare for a collegiate gymnast to score multiple perfect 10s on different apparatuses. In fact, just four athletes in 2019 were versatile enough to master two different events and score perfectly on them on separate occasions.
And in 2020, just one gymnast did it in three events: Trinity Thomas.
Just two weeks after scoring her first-ever collegiate perfect 10 on uneven bars against reigning SEC Championship winner LSU, the sophomore nabbed another perfect 10. This one, however, came on balance beam in a meet against Denver and Iowa State inside the O'Connell Center Friday night in Gainesville.
Trinity Thomas' Second Perfect 10 of 2020
With that, Thomas became the first NCAA gymnast to earn a perfect 10 on two different events in 2020 NCAA competition. It was also just the sixth 10 scored on the balance beam this season.
Thomas's 10 was the 43rd in University of Florida history and she was the 14th different UF gymnast to earn a perfect score. Only six other Gators scored more than one perfect 10s. She's also just the fourth in school history to do so on multiple events (Bridget Sloan, Alex McMurtry, Kytra Hunter).
Florida Ranked No. 2 Behind Oklahoma
Thomas's performance, along with teammates Alyssa Baumann (9.975 on floor) and Payton Richards (9.95 on beam), propelled Florida to a meet score of 197.875. That gives the second-ranked Florida gymnastics team three of the nation's top-five regular-season totals in 2020. They own the No. 1, No. 4 and No. 5 spots.
"What a night for the Gators," Gator gymnastics head coach Jenny Rowland said in a release. "First and foremost, we have to be really thankful to Gator Nation for showing up in full support. It was a great evening in the non-conference, but very thankful that we had a lot of fans to help us through the four events. It was a nice solid start for the Gators. It was a solid meet for us tonight."
The Gators currently own the No. 2 ranking in the NCAA behind Oklahoma. The Sooners have won three of the last four national championships.
Florida is hoping to capture its first national championship since capping a three-peat in 2015, and Trinity Thomas may be why they do so. She's got her sights set on the 2020 Olympic Games in Tokyo, Japan, with USA gymnastics, and there's no reason she won't make the team if she performs like this.
---
UPDATE (February 17, 2020): Just one week after her perfect score on the balance beam, Thomas went off again against the 17th-ranked Auburn Tigers in a meet inside Auburn Arena for her third perfect score of the season, and second in as many weeks.
Trinity Thomas' Third Perfect 10 of 2020
The Gators won the meet, 197.875 to 194.750, as Thomas posted meet-high scores on beam, uneven bars (9.950) and floor exercise (9.950) to win the all-around with a total score of 39.775. Payton Richards marked the high score of the day on Vault for Florida, posting a 9.950.
This article was originally published February 17, 2020. It was updated after Thomas scored her fourth perfect 10 of the season, this time on her floor exercise, on March 7, 2020. She was the only gymnast with perfect scores in three events before the season was canceled due to the coronavirus pandemic.