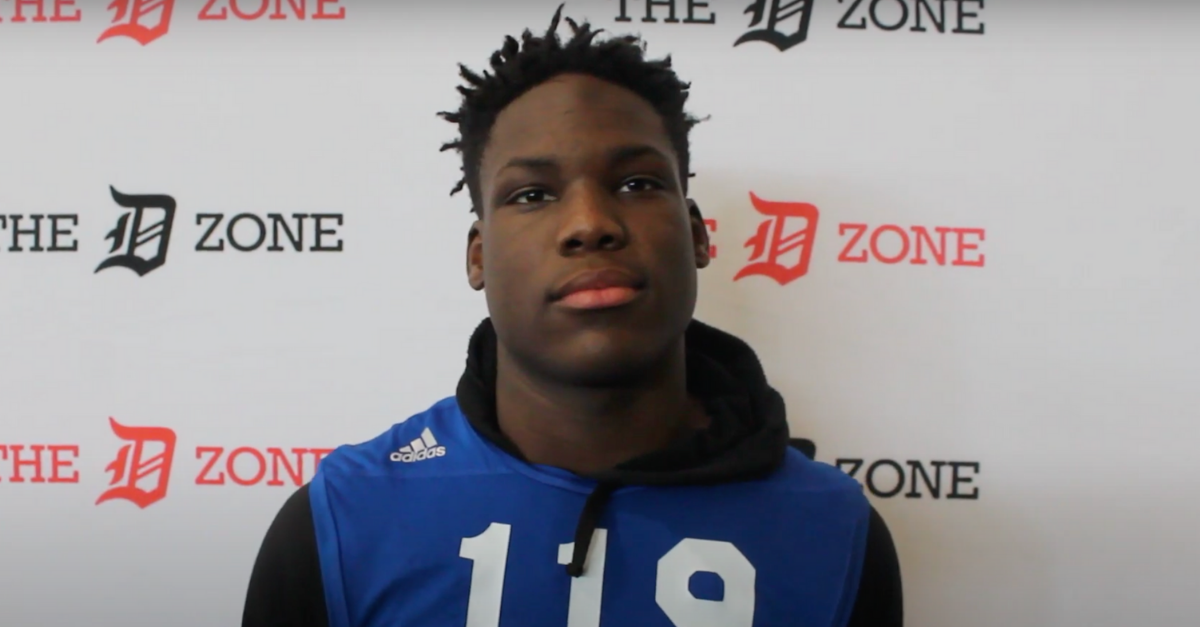 Screenshot from YouTube
For 16 seasons, tight end Antonio Gates exemplified greatness at his position for the San Diego Chargers. He was an eight-time Pro Bowler, caught over 100 touchdowns, and is widely considered as one of the greatest undrafted players in NFL history. Now, it's his son's turn to carry on the family legacy.
Although it took his dad until after college to truly dominate on the gridiron, Fordson wide receiver Antonio Gates Jr. is already following in his father's footsteps. He's 6-foot-3 and 185 pounds and continues to rack up college football offers before his junior season.
It's only a matter of time before more programs find out the talent level of the Dearborn, Michigan product.
WR Antonio Gates Jr. Recruiting
RELATED: Saquon Barkley's Brother Paving Own Path to College Football
Entering his junior season at Fordson High School, Antonio Gates Jr. is a four-star recruit who continues to get flooded with NCAA offers, according to 247Sports. He already has scholarship offers from Power 5 programs such as Michigan State, Nebraska, Kentucky, and Ole Miss, as well as Buffalo, Central Michigan, Cincinnati, Coastal Carolina, Florida Atlantic, Memphis and Southern Miss.
MSU is one of his dream schools. Antonio Gates Sr., who went to high school at Detroit Central, started his college career in East Lansing and wanted to play football for then-head coach Nick Saban, but ultimately pursued basketball. The three-time First-Team All-Pro transferred to Eastern Michigan and ultimately ended up at Kent State before he started catching touchdowns from Philip Rivers during his Hall of Fame career with the San Diego and Los Angeles Chargers.
Could Saban call again to have his son play for the Crimson Tide in the SEC? Only time will tell.
WR Antonio Gates Jr. Highlights
Antonio Gates Jr. started his high school career at 5-foot-10 and 170 pounds, according to The Detroit News, and only caught 15 passes as a freshman. Then, last season, Gates got a little bigger to rack up over 600 receiving yards and five touchdowns, according to MaxPreps.
Gates Jr. has a ways to go to be a future Hall of Famer like his dad, but he's turning out to be a fine football player and will continue to get better and better throughout his career while helping his team get to the playoffs.