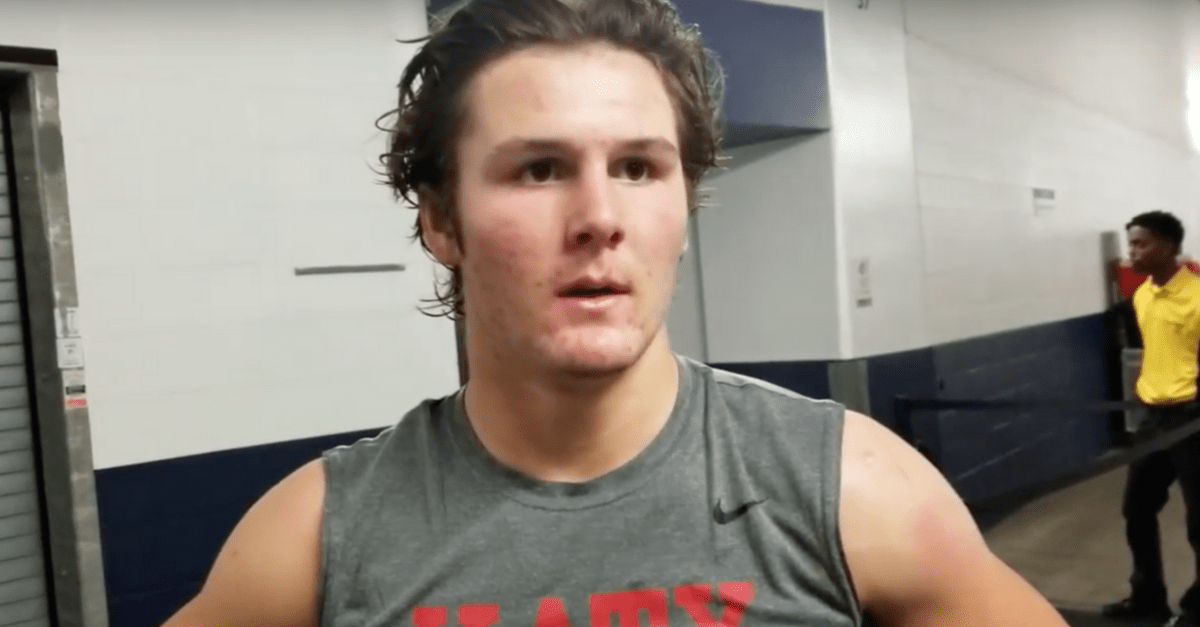 Screenshot from YouTube
Everything is bigger in Texas, especially high school football. From coaches making an absurd salary to multi-million dollar stadiums, the Lone Star State takes it all very seriously. So when a star quarterback for one of the top teams makes a mistake off the field, everyone is bound to hear about it.
Just ask Katy quarterback Bronson McClelland how that goes. The junior signal caller was caught using a racial slur on the social media platform Snapchat, and it has landed him in hot water.
Following a 35-30 win over Tompkins High School, a video of McClelland using the "N-word" went around. As a result, the Katy football starting quarterback has been suspended two games and stripped of his captain title on the football team.
RELATED: Alabama HS Coach Shoves Son, Resigns After Video Backlash
Although McClelland has taken responsibility for his actions, Katy High School, which is located just west of Houston, and head coach Gary Joseph will be without of the best players against Morton Ranch and Seven Lakes in the next two Friday night football games.
"After last nights win over the Tompkins Falcons I made comments on social media that were not appropriate under any circumstances. Being in a leadership role, I put my family, teammates, coaches, school and community in a bad light.

"Today my parents and I met with Coach Joseph to discuss my actions and that poor decision. I will no longer have a leadership role as a team captain and will not participate in the next two district games, giving me time to focus my attention on what it means to be a Katy Tiger.

"I ask for your understanding and support as I try to represent you in the manner expected from a member of a Championship Program."
According to the Houston Chronicle, Katy ISD and law enforcement investigated the incident as well.
This definitely isn't a great look, no matter the circumstance.