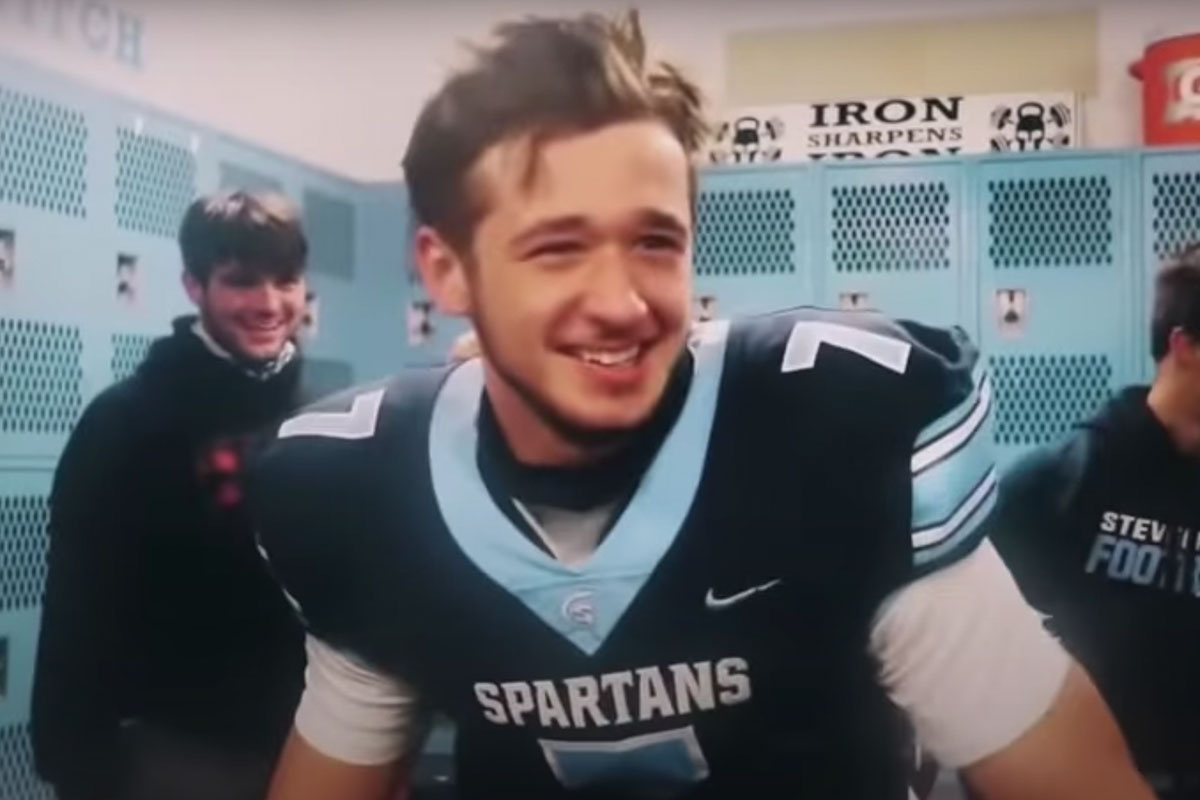 Screenshot from YouTube
Caden Woodall is committed to play football at Harvard, where he will likely spend his weekends in the library studying after games. But first, the running back for Stevenson High School in Livonia, Michigan, is absolutely living up his high school football career.
While the kid they call "No. 7" has tallied a ridiculous 2,238 rushing yards and 34 touchdowns through eight games for Stevenson this year, it's his dance moves that have all of one social media platform talking about him. Yes, the TikTok star has garnered more than a million followers and has viewers buzzing over his locker room dance party that I guarantee you won't watch just once.
In a crazy year where the coronavirus pandemic and COVID-19 outbreak has pretty much ruined everything, Woodall and the Spartans football players might be here to save the year.
HS Team's Viral Dance Party
RELATED: One-Armed HS Quarterback Goes Viral for 6-Touchdown Game
Was that…a bottle of syrup? Did that one dude flawlessly execute the worm? Did we just witness a coach do a back flip in the middle of a dance circle?
OK, this Michigan high school football team knows how to have fun. The first kid you see in the locker room is the man of the hour, Caden Woodall, who just so happened to rack up 356 rushing yards and six touchdowns in the team's game against 42-21 Westland John Glenn.
As soon as he jumps in to the party set to Justin Bieber and Sean Kingston's "Eenie Meenie," the celebration is on. Livonia Stevenson student Alex Hampstead posted the video to TikTok in early November, and it's been making its rounds on Twitter and Instagram.
?I got some new found fame this week,? Woodall told MLive.com. ?It?s becoming of a trend thing right now, which is very interesting.?
Woodall then made his own TikTok account and quickly racked up more than one million followers. He re-created the "Eenie Meenie" video on a golf cart, and his first video has more than 26 million views.
His team isn't done dancing, either. Barstool Sports shared a video of the guys dancing to Rupert Holmes' "(Escape) The Pina Colada Song" and it's as good as you'd expect.
Right now, Woodall is focused on his play on the gridiron. He's a finalist for the Michigan High School Football Player of the Year award. He has offers from Harvard, Princeton and Yale but is looking forward to joining the Harvard Crimson. Let's just hope he keeps posting these awesome videos that embody what high school sports is all about.