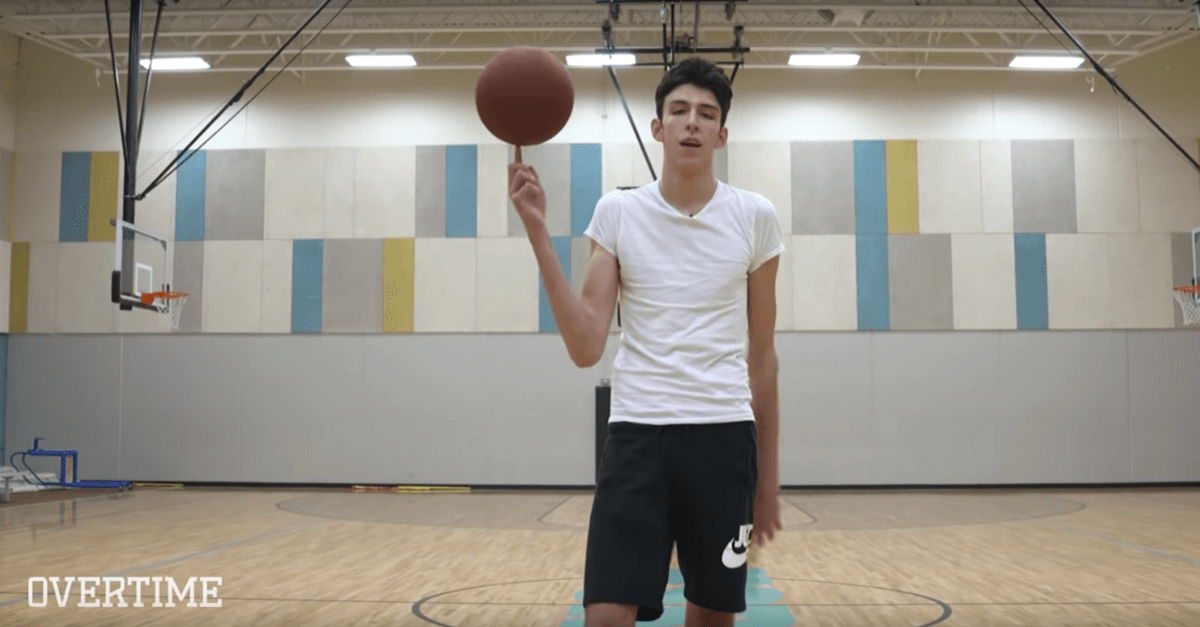 Screenshot from YouTube: Overtime
Not many high school basketball players can say they went toe to toe with Steph Curry. Chet Holmgren can, and he can say he bested the two-time NBA MVP, too.
Holmgren is a 7-foot, 190-pound center out of Minnehaha Academy in Minneapolis, Minnesota. A year ago, he was barely on the radar. Now, he's the No. 1 recruit in the 2021 recruiting class, according to ESPN. He's ranked No. 3 and No. 4, according to 247Sports and Rivals, respectively.
He climbed to a top-five consensus recruit last summer as a member of the Grassroots Sizzle on the AAU circuit. He toured his one-of-a-kind game across the country to ascend amongst the best players in his class along with Jonathan Kuminga, Paolo Banchero and plenty more. Rightfully so. The seven-footer has a perpetual motor capable of impacting the game on both ends of the floor.
Chet Holmgren Highlights
Holmgren has fluid ball-handling skills like that of a point guard for someone of his stature. He keeps his dribble below the knees and maintains control in the open court and on the drive. His jump shot is silky. The five-star recruit oozes athleticism and can hit consistently from downtown. He knocks it down as well spotting up as he does off the dribble. Holmgren has a solid post game built around crafty moves and dunks. He uses his length to finish above the rim.
Speaking of length, Holmgren has plenty. His 7-foot-6 wingspan makes him a valuable rim protector who feasts on opponents' drives. The gangly big man is a vacuum for rebounds. His mixture of guard skills, size, and intensity produces obstacles on both ends of the court. The only real knock is his strength, which will come in time, and his slender frame.
You can count on Holmgren giving his all when he steps on the court. He welcomes competition and relishes in outshining them. He's won three straight state championships at Minnehaha alongside Gonzaga commit Jalen Suggs. They don't plan on settling for just three.
Chet Holmgren Recruiting
The five-star junior's top choices are Gonzaga, Minnesota, Purdue, and Texas, per 247Sports. He took an official visit to Gonzaga on October 4. He also has scholarship offers from Kansas, Florida, Memphis, Tennessee, North Carolina, Auburn, Duke, Ohio State, Kentucky, Baylor, and Texas A&M. 247Sports' Crystal Ball predicts Holmgren will play college basketball in-state and sign with Minnesota. Although, that prediction is from December 2018 before he blew up.
The Minnehaha product's path leads to the NBA Draft. He's a projected top-10 pick. If his basketball career doesn't work out for some reason, he can always pursue journalism. Chet Holmgren is a dynamite name for the evening news. No matter what team he chooses, he'll be sure to not only boost the school in the recruiting rankings but also in the NCAA Tournament.
---
UPDATE (June 27, 2020): Holmgren has narrowed his decision down to seven schools. He's between Ohio State, North Carolina, Minnesota, Michigan, Gonzaga, Georgetown and Memphis, according to an Instagram post of his. The COVID-19 pandemic has made it tougher for his basketball recruiting process, but it appears he's slowly honing in on his dream school.
This post was originally published on March 11, 2020, but was updated after Holmgren narrowed his decision down.