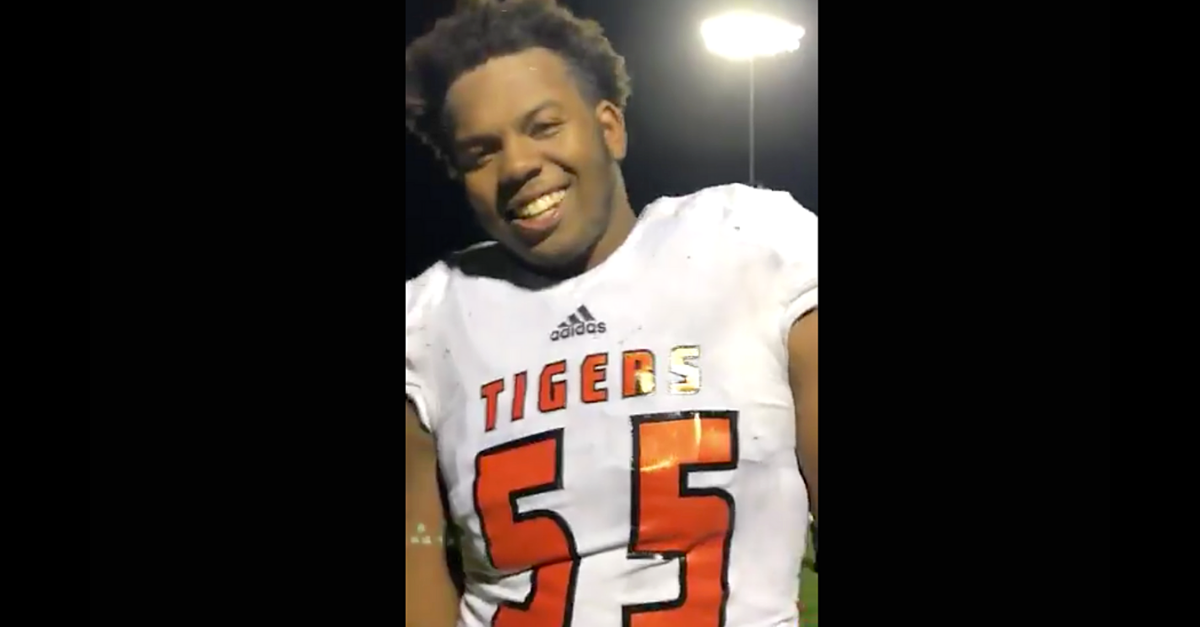 Twitter: The D Zone
Belleville High School defensive lineman Damon Payne is everything you want in a disruptive, defensive force. Measured at 6-foot-4 and 297 pounds ahead of his senior season, it's no surprise that every powerhouse in college football is pulling out all the stops to get their hands on this kid.
Look no further than Payne's very first scholarship offer; It came from the SEC's Kentucky Wildcats when Payne was still in the eighth grade.
Five-Star Defensive Tackle Damon Payne
Rated as the No. 1 defensive tackle in America and 14th overall prospect regardless of position by the 247Sports Composite, Payne's fielded more than two dozen offers from around the country. Payne plays on both sides of the ball as the three-technique defender and Belleville's starting left tackle, and he excels at both. The MaxPreps Junior All-American logged 22 tackles for loss and eight sacks on defense, and he didn't allow a sack on offense in 2019.
Payne's game compares to Philadelphia Eagles star Fletcher Cox, a five-time Pro Bowler with Hall-of-Fame potential, according to 247Sports recruiting analyst Charles Power. You'll likely see Payne selected early when his time comes to enter the NFL Draft.
On February 4, 2020, Payne took to Twitter to announce the top 10 schools he'd focus his recruitment on:
– Alabama Crimson Tide
– Arizona State Sun Devils
– Kentucky Wildcats
– LSU Tigers
– Michigan Wolverines
– Ohio State Buckeyes
– Oklahoma Sooners
– Oregon Ducks
– Penn State Nittany Lions
– USC Trojans
Payne also holds offers from Auburn, Florida State, Georgia, Iowa, Iowa State, Michigan State, Minnesota, Mississippi State, North Carolina, Ole Miss, Penn State and Tennessee, among others.
Payne, who's accepted his invite to participate in the Under Armour All-American Game, announced that he intends on making a verbal commitment on July 26, 2020. According to 247Sports' Crystal Ball predictions, the Alabama Crimson Tide are listed as the overwhelming favorites.
Damon Payne's Junior Highlights
The Belleville Tigers annually rank among the best high school football teams in the state of Michigan. The team boasts a 23-2 record the last two seasons under head coach Antwain White. Their only losses came in back-to-back semifinal births in the state playoffs.
Rest assured that before Damon Payne moves to the collegiate level, his focus is bringing a coveted state championship home in 2020. That is, unless the coronavirus pandemic and COVID-19 virus doesn't change everything.
---
UPDATE (July 27, 2020): On Sunday, July 26, Payne made a massive commitment to join the Alabama Crimson Tide, adding yet another All-American defensive lineman to Nick Saban's run of greatness in Tuscaloosa.
Damon Payne Commits to Alabama
It's important to note that the Michigan High School Athletic Association (MHSAA) is "optimistic" about playing a football season in the fall. However, amidst the uncertainty of the coronavirus pandemic, it's very possible that football is moved to the spring there, just like many states like California already announced.
If that happens, blue-chip recruits like Damon Payne may elect to forego playing their senior season, graduate early, and enroll at their college of choice after National Signing Day.
This article was originally published July 10, 2020. It was updated following Payne's verbal commitment to Alabama.