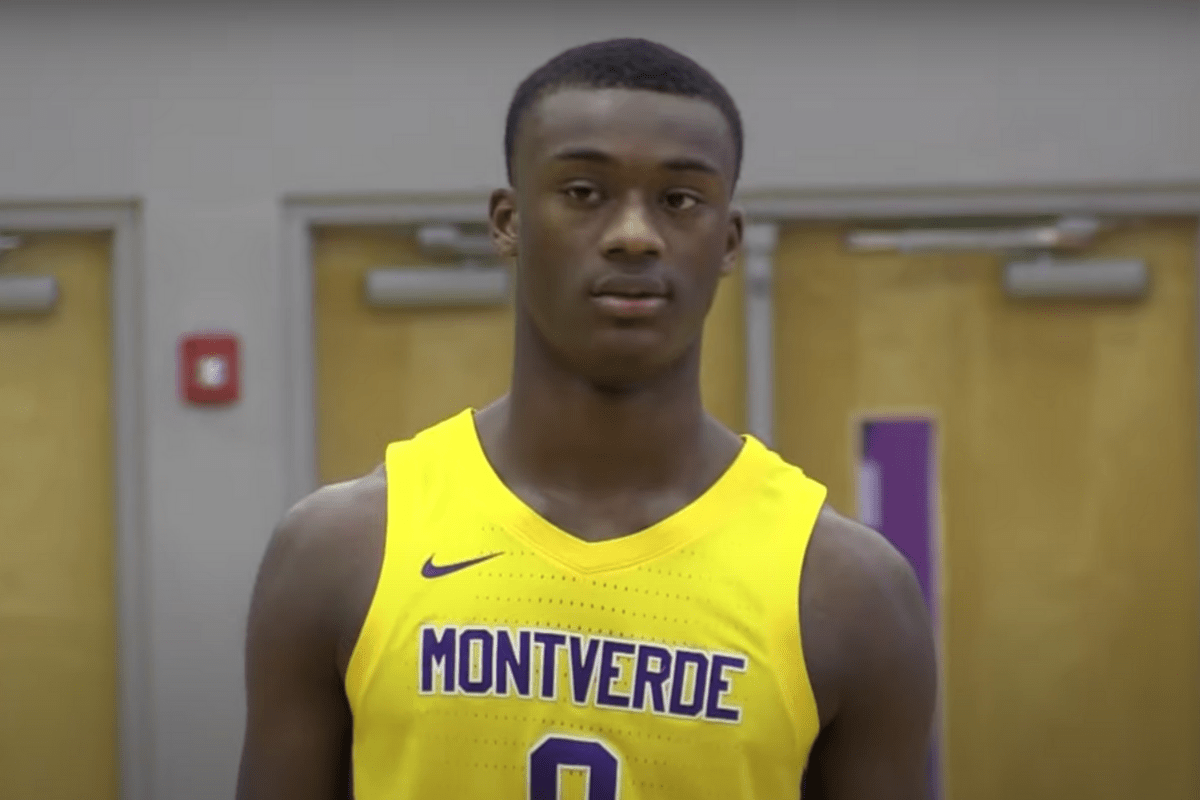 Screenshot from YouTube
In the talent pool that is the Montverde Academy basketball team, it's easy to drown.
Joel Embiid, Ben Simmons, D'Angelo Russell, and RJ Barrett headline the Eagles' NBA alumni. The list is set to grow.
2020 grad and current Oklahoma State guard Cade Cunningham is the presumed No. 1 pick in the 2021 NBA Draft. Classmate and Florida State forward Scottie Barnes should join him in the lottery. 2021 Michigan signee Caleb Houstan is expected to join the Association's ranks in due time.
Rising in that prolific collection is Dariq Whitehead, who may skip college altogether.
Dariq Whitehead Highlights
At 6-foot-5 and 190 pounds, Whitehead is freakishly athletic. Combined with a lightning quick first step, his ability to finish at the rim is a problem for opponents. The shooting guard can cram dunks, Euro step, and convert with either hand. He's a deep threat who emulates DK Metcalf in transition, where he emphatically finishes with slams.
From the outside, Whitehead has a pretty shot. His form is solid, the touch is soft, and his follow through reaches into the cookie jar. Playing with Cunningham last year, Whitehead cashed plenty of spot-up opportunities. He's also capable off the dribble. As he improves, he'll be a lethal scorer at all three levels.
Whitehead has the potential to be a lockdown perimeter defender. His size and athleticism allow him to guard across multiple positions.
Whitehead has all the pillars for a well-rounded game.
Dariq Whitehead Basketball Recruiting
RELATED: Dior Johnson Has Pro Talent, And He?s Just Getting Started
The Newark, New Jersey native is the seventh-ranked recruit in the Class of 2022, according to the 247Sports Composite Rankings. His teammate Jalen Duren is second in the class behind Michigan State commit Emoni Bates.
The Montverde junior has offers from Arkansas-Little Rock, Auburn, Florida, Florida State, Georgia, Louisville, LSU, Maryland, Memphis, North Carolina State, Oklahoma State, Pittsburgh, Rutgers, Seton Hall, Tennessee, Texas, Texas A&M, Wake Forest, and West Virginia.
The college basketball offers will undoubtedly keep rolling in, but they may come in vain. Whitehead is one of the few high school prospects who has a shot at going straight to the NBA ? barring the league changes its one-and-done rule in time for the 2022 draft.
If he were to skip college, he would be 17 when his name is called by Adam Silver. He'll turn 18 in August of that year.
Whitehead expanded on the jump to NJ.com:
?I feel like you?ve got to be mentally and physically prepared for [the NBA],? Whitehead said. ?The pros, you?re playing with grown men. I feel like if you need that year of college, I don?t see why not just take that year of college? Get more prepared so that when you get there, you?re not struggling as much. So I?m definitely keeping my options open.?
Helping Whitehead make his decision is his older brother and NFL linebacker Tahir Whithead, who plays for the Carolina Panthers.
Assuming the one-and-done rule comes to an end, Whitehead would be one of the biggest beneficiaries. For now, his attention is on improving his game:
?I?m just trying to get better," Whitehead told ZAGSBLOG. "I feel like without me getting better, [going straight to the NBA] wouldn?t even be in the conversation. I have a lot of stuff to work on skill-set wise, mentally, physically.?