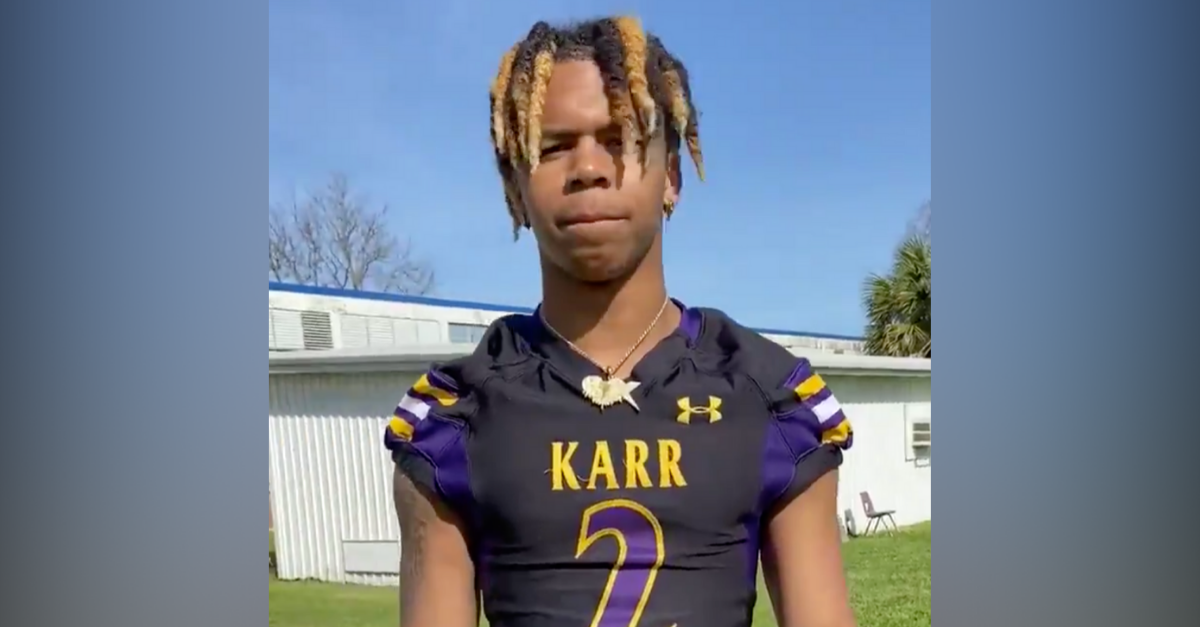 Screenshot from Twitter
Look around the country and you won't find many high school wide receivers as talented as Edna Karr's Destyn Pazon. He has good size, toughness, and the speed to give defensive backs nightmares. There are countless reasons why several of the top college football programs want to add him to their 2021 recruiting class.
Pazon, a New Orleans, Louisiana native, is a four-star recruit with a lot of talent and even more upside. He's that electric and his recruitment is about to heat up even more.
On March 29, Pazon released his final five and, needless to say, it's a star-studded list.
Destyn Pazon Recruiting
RELATED: Nation's No. 1 QB Announces Final 5 Schools
As an elite national prospect ranked No. 131 by the 247Sports Composite, it's no surprise wide receiver Destyn Pazon racked up some impressive offers.
Although schools such as Arkansas, Baylor, Colorado, Georgia, Houston, Kentucky, Louisville, Miami, Mississippi State, Ole Miss, Purdue and Tennessee came calling, Pazon turned them all down.
Right now, all the 6-foot wide receiver is focusing on are the Alabama Crimson Tide, Florida Gators, Florida State Seminoles, LSU Tigers, and the Oklahoma Sooners.
After his announcement, several 247Sports staff members have FSU as the team to beat.
WR Destyn Pazon Highlights
If you throw the ball up, there's a good chance Destyn Pazon is going to get it. That's what makes him special, and it's a big reason why Edna Karr won the Louisiana 4A state title last season.
Of course, there's plenty for Pazon to get better at. He has the physical skills to be a potential difference-maker at the collegiate level. The four-star recruiting prospect could ultimately become an NFL Draft pick, too.
Recruiting services have taken note of his game. He's definitely one of the best prospects in the state and will be fun to watch next season and during the course of his college career.