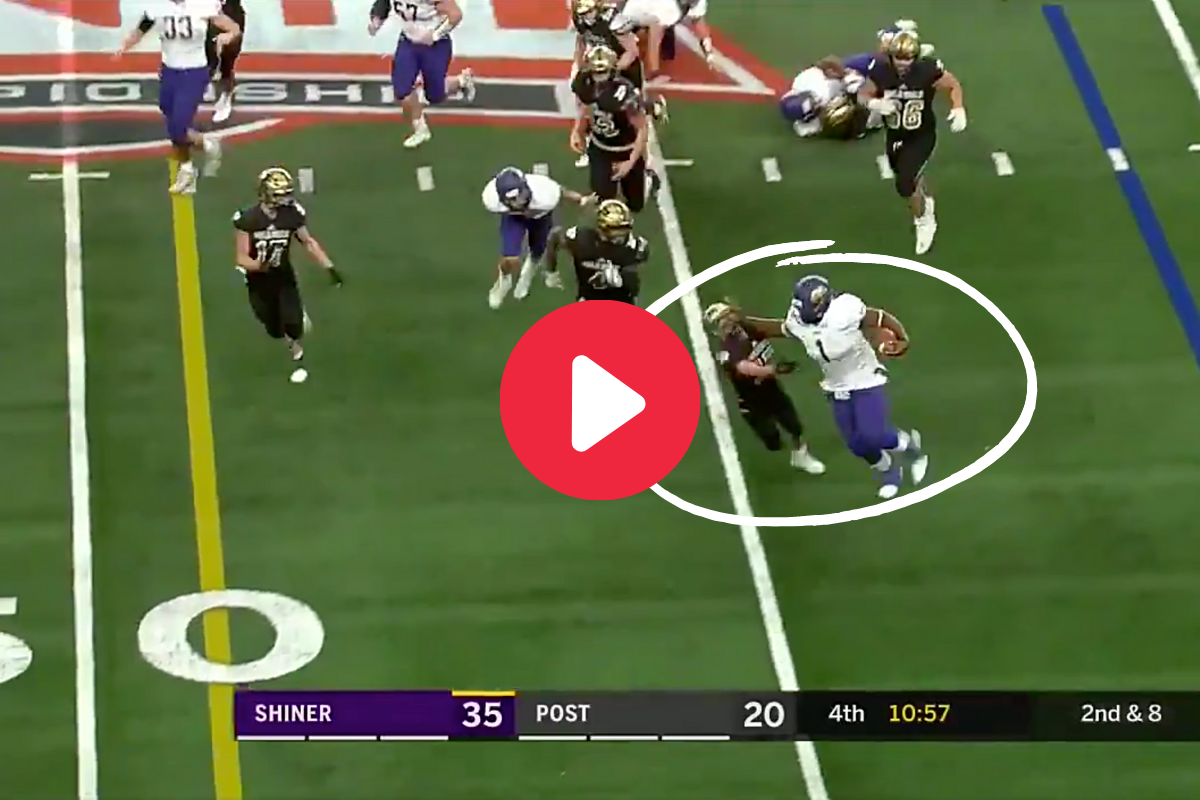 Screenshot from Twitter
Doug Brooks is one mean dude. The star player for Shiner High School in Shiner, Texas, serves primarily as the teams' defensive tackle because he weighs 265 pounds and stands 6-feet tall. Oh, and the human bowling ball carries team's running back duties and has earned offers from Houston and UTSA despite being a class of 2022 recruit.
It's clear that whenever this kid is on the field, he's the best. In Shiner's win over the Post Antelopes in the Class 2A Division I UIL Texas high school football division I state championship game in AT&T Stadium, Brooks put his abilities on full display.
Brooks stripped a quarterback and handed the touchdown to his fellow defender on one play, then carried an injured teammate to the field for the final play. No moment was as impressive as the vicious stiff arm he laid on a poor Post player who got a face full of dirt.
Doug Brooks Stiff Arm
RELATED: High School Streaker?s Cheeky Escape Plan Works to Perfection
Shiner lead 35-20 with 11 minutes to go in the fourth quarter. That's when Brooks decided to end a hopeful tackler's entire football career by throwing an embarrassing stiff arm on him.
Running like a locomotive, Brooks pounds him into the ground and keeps chugging along. He throws another dude to his side and finally is brought down after two or three players wrap him up.
Can you believe that's a defensive lineman? It's no surprise Shiner won a state title with a guy like that on the team.
?We tell Doug quite often, we?re glad he?s on our team,? Shiner coach Daniel Boedeker told TexasFootball.com. ?He?s a force wherever you put him on the field, offense, defense, special teams.?
The Shiner Comanches came out on top in Arlington thanks to Doug Brooks and his brother Dalton Brooks, who added two rushing touchdowns. The play of the game, however, was Doug's viral stiff arm.