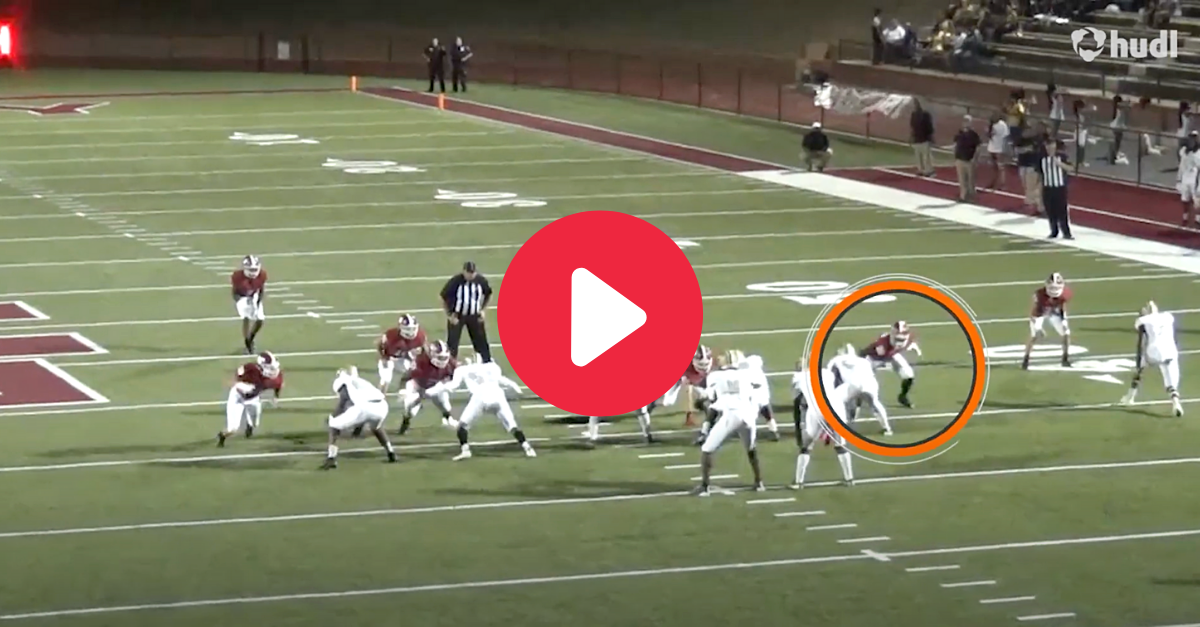 YouTube: Hudl
For some high school football players, like the Arizona five-star running back averaging 20 yards per play or the best prospect to come out of the state of Texas since Myles Garrett, the offers from universities pour in. For others, like America's leading rusher who only had two major offers, that simply isn't the case.
It's safe to say that Dylan Brooks falls into the former category. A Class of 2021 five-star recruit, Brooks is the country's top-ranked weak side defensive end in his class. He's currently the 35th-best player in the nation, according to 247Sports.
Brooks, who plays for Handley High School out of Roanoke, Alabama, has a very, very bright future on the gridiron. The 6-foot-5, 240-pound defensive end currently has a higher composite score than former Alabama star prep players T.J. Yeldon, D.J. Fluker, JaMarcus Rusell, Kerryon Johnson and current Auburn Tigers quarterback Bo Nix.
Believe it or not, Brooks is the highest-ranked defensive end to ever come from the state of Alabama (though there have been outside linebackers rated higher). That's the kind of talent we're talking about.
Dylan Brooks Recruiting
Brooks has at least 29 official offers on the table from universities around the United States. His very first was from Indiana University in January 2019 and nearly every Southeastern Conference team has jumped on the bandwagon since.
Like handing out roses to contestants on The Bachelor, Brooks cut his list of schools he'll be choosing from to 15. They included Alabama, Auburn, Florida State, Florida, Georgia, Georgia Tech, LSU, Maryland, Miami, Mississippi State, Nebraska, South Carolina, Tennessee, Texas and Texas A&M.
RELATED: No. 1 WR Mario Williams Announces Top 5
The five-star player eliminated Clemson, Indiana, Kentucky, Oregon, UAB, Jacksonville State, Virginia, Virginia Tech and West Virginia.
According to 247Sports' crystal ball predictions late in 2019, Brooks was most likely pick Auburn University as his destination spot. Auburn, it should be noted, is just an hour south of Brook's hometown of Roanoke.
That being said, Brooks loved his visit to the University of Alabama and said the University of Florida can take him "to the next level." 247Sports listed Alabama, Auburn, LSU and Tennessee as the schools with the best chances of landing him.
Dylan Brooks Highlights
Brooks has the type of physical attributes that college football coaches are looking for. Height, speed and flexibility are all important for defensive ends who make it their job to disrupt the quarterback.
"Three factors they're looking at, obviously his height," Handley High School head coach Larry Strain told the Randolph Leader. "The second thing they're looking at is his speed. The third thing they're looking at that everybody talks about, can he bend? Can he get down there and can he put his backside below his knees when he does squats? Dylan has all of that."
That was in April 2019, when Brooks was considered a four-star prospect and the 26th-ranked prospect in the 2021 class by 247Sports. Coaches around the SEC have told his coach that Brooks could end up being one of the top one or two players overall.
"[Jeremy] Pruitt at Tennessee told me that they project him to be the number one or number two player in his class in the country when his senior year gets here," Strain said. "That's the same thing [Dan] Mullen told me at Florida. So he's hit the big time."
Brooks has certainly been a factor in Handley's success. Handley went 7-5 during the 2019 season and went 5-1 in their region. The team lost, 9-6, in the second round of the AHSAA Class 4A playoffs. Brooks finished the season with 64 tackles, 14 for a loss, and caught seven touchdowns on offense. He was named to the ASWA's All-State team.
As a sophomore in 2018, Brooks was a threat along the defensive line. He registered nine sacks, 27 tackles, two quarterback hurries and one fumble recovery, per MaxPreps. Handley struggled, finishing 5-6 that season.
Still, Brooks earned All-State honors. That turned the heads of college coaches, who considered his size and tape before offering him. Now he's set to showcase his skills in the Under Armour All-American Game come January 2021, but not before gaining another year of improvement under his belt.
No matter where Brooks ends up, he's going to be wreaking havoc on Saturdays. You better hope it's just not against your team.
---
UPDATE: Dylan Brooks verbally committed to Jeremy Pruitt's Tennessee Volunteers on April 26, 2020. Despite the coronavirus pandemic limiting visits during the spring, the highly-coveted pass rusher was ready to make his commitment known ahead of his senior year.
Should Tennessee hold on to Brooks, it'll add to a top-5 recruiting class that's vying for the best in the nation heading into 2021.
This article was originally published November 14, 2019. It was updated following the 2019 season and Brooks' verbal commitment to Tennessee.