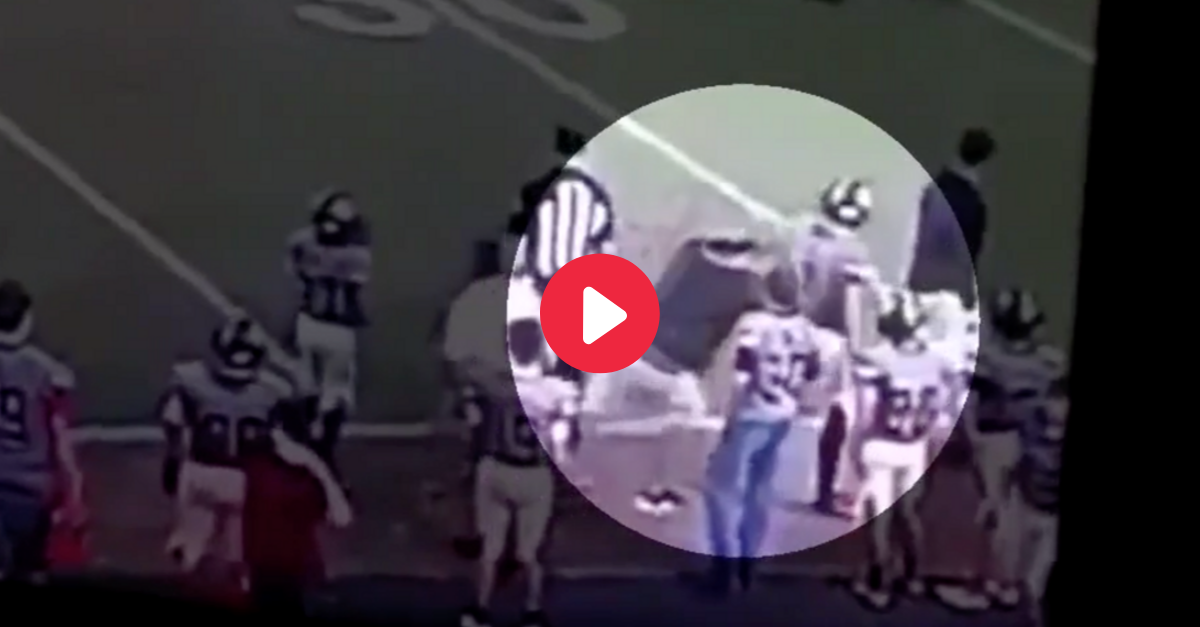 Screenshot from WDHN Dothan First
The past couple of weeks have been rather unsettling for the Elba, Alabama community, especially the Elba High School football team. The team's head coach, Pate Harrison, had been on administrative leave following an incident on the sideline during a junior varsity game. But just when things had started to quiet down some, a major decision was made.
During the game on September 16, Harrison's son approached the sideline, but didn't really stop to talk to his dad. So he started walking away. Suddenly, seconds later, video obtained by WDHN Dothan First shows Harrison start running, pushing away another player, getting past the official, and shoving his son in the upper back and neck area.
Of course, the video went viral on various news outlets, and all eyes were on what would happen next. Then, following a "special-called meeting," head coach Pate Harrison submitted his resignation to the Elba City Schools and Elba City School Board, according to The Dothan Eagle.
Here is a video of the incident on repeat:
RELATED: HS Coach Takes a Knee, Then Resigns After Parent Outcry
Pate Harrison took over at Elba High School at the start of the 2018 season. He complied an 11-4 overall record, including a 3-1 start this year. He even guided the Tigers to the Class 1A state playoffs last year. However, his tenure as a coach and teacher at the school is officially over.
So what happened? What caused the coach to snap at the young man? He wrote a Facebook post explaining after the video surfaced.
"By now most of you have heard that I embarrassed myself, the Elba football program, and my family. In 14 years of coaching I have never truly lost my cool until my own child told me to shut up. That is no excuse for me snatching him up, and I apologize to everyone who was there to witness this event. I am truly sorry that my actions has put the team in a bind and the extra work on the coaches. The program is bigger than any one person and I know the team will continue to be successful."

— Former Elba High School Football Coach Pate Harrison, via The Dothan Eagle
Glen Johnson, a longtime assistant who served as the interim head coach, will now lead the Tigers for the rest of the season.
"Our thoughts and prayers are with the Harrison family, but we have to move forward and do what is best for the kids, the city of Elba and the school system," Johnson said.
According to The Dothan Eagle and Superintendent Chris Moseley, Pate Harrison's resignation as the Elba football coach at the school board meeting Monday morning was not forced. He did it on his own.
At the end of the day, everyone learned a lesson. One moment of mental lapse can end a tenure in the snap of a finger.