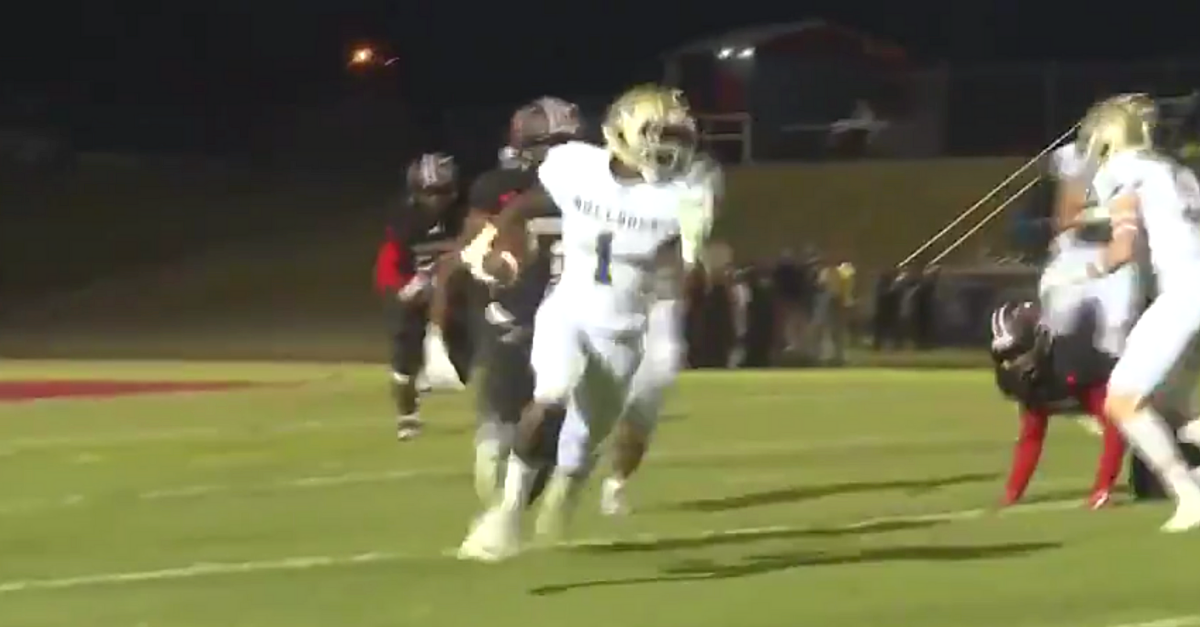 Twitter: Justin McNelley
Geneva County High School running back Emmanuel Henderson is the best athlete on the football field. There's no debate, and it took one breakout year of varsity football for scouts to consider him among the very best players of the entire 2022 recruiting class.
Henderson slots in as the No. 1 running back in the nation and 10th overall prospect, according to the 247Sports Composite. The standout tailback and kick returner was listed at 6-foot-1 and 185 pounds ahead of his junior season, and he is churning out highlights at an all-time rate in Hartford, Alabama.
During his sophomore season, the Geneva County Bulldogs finished 4-6. Not the best result, but after seeing Henderson's stat line, don't expect there to be as many losses over his final two years.
Henderson accounted for 3,247 total yards and 45 total touchdowns as a sophomore. Those numbers include 1,996 rushing yards, 32 rushing touchdowns, and six kickoff return touchdowns — That final number tied the AHSAA state record. He also broke the state record with 259 kick return yards against Ariton, tied the record with a 99-yard return touchdown against Samson, and had a 210-yard receiving day against Abbeville in 2019.
Yeah, he's sick.
Five-Star RB Emmanuel Henderson Highlights
RELATED: 2022's No. 2 Cornerback Trims List to 10 Schools
Henderson's already received an invite to the 2022 Under Armour All-American Game, and for good reason. Once he fills out his frame and finishes growing, the galloping runner is going to be a matchup nightmare facing linebackers and defensive backs in space.
247Sports' Charles Power projects Henderson as "a multi-year starter at the Power Five level with the upside of developing into an early round NFL Draft pick."
Though early in the football recruiting process, Henderson holds over a dozen offers from schools like Alabama, Arkansas, Auburn, Florida, Florida State, Georgia, LSU, Louisville, Michigan, Mississippi State, Nebraska, Penn State, South Carolina, Tennessee, Texas A&M, Virginia Tech and USC. Don't be surprised to see offers from powerhouses like Clemson, Ohio State and Oklahoma follow.
Geneva County head coach Jim Bob Striplin, a former walk-on quarterback of the Auburn Tigers, aligned Henderson's skillset to former Florida State wide receiver and Heisman Trophy candidate Peter Warrick:
"It is a rare occasion you have a kid like this. One of his greatest assets is his vision. He sees what is happening in front of him two steps before everybody else does, so he already has a mental advantage on people who are trying to tackle him," Striplin told The Dothan Eagle.

"The thing that separates himself from anybody else who can do that is he can actually get to the spot on the field that he needs to get to because he has such a great burst of speed and the quickness on top of that to elude tacklers that are trying to corral him."
Still not convinced? Henderson averaged 17 points, seven rebounds and four assists in 2019 for Geneva's basketball team, too.
Expect the name Emmanuel Henderson to flash across your timeline a lot once he arrives in college football. This kid has the raw talent to be really, really special.