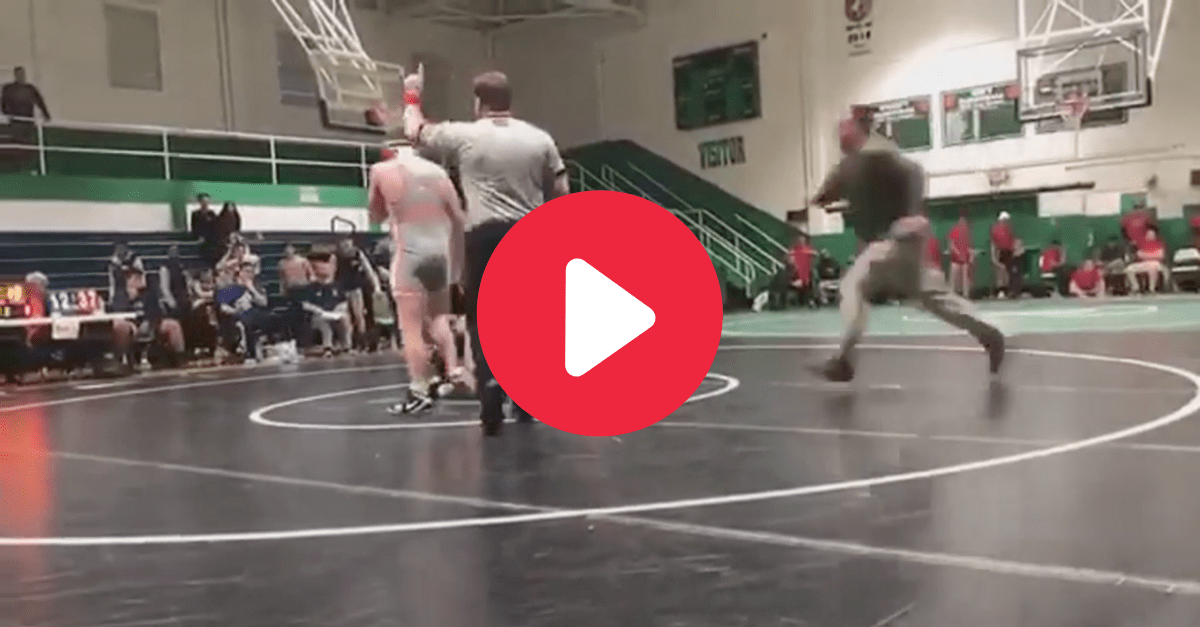 Screenshot from FOX 46
We all know parents who go way too far when it comes to their child's athletics. Protecting your son or daughter is obviously priority number one, no matter if they're learning the game in youth sports or chasing titles in the professional ranks. But never, under any circumstances, is a parent afforded the right to enter the field of play and come after their child's opponent. Ever.
Need proof? Watch what Barry Lee Jones, the father of a Hickory Ridge High School student, did when his son was slammed to the mat in a wrestling tournament. This nauseating act landed the father in jail and facing charges of simple assault and disorderly conduct.
Father Attacks High School Wrestler
According to a Kannapolis Police Department news release obtained by FOX 8 news, after Jones' son was illegally slammed in that high school wrestling match, the father rushed the Southeast Guilford High School student-athlete. The official's hand signals indicate the move as illegal and awards points as a result. The slam didn't appear to injure the HRHS student, either, as he quickly gets in position for a restart.
That, however, didn't stop this deranged parent from tackling his son's opponent — remember, this was a 17-year-old high school kid — with every bit of force he had. Parents and high school wrestling coaches immediately swarm the mat as an all-out brawl ensues.
After finally being detained and arrested, Jones, of Harrisburg, North Carolina, was sent to Cabarrus County Jail and received a $1,000 secured bond, according to the police report.
"At first, I thought maybe someone had gotten hurt or maybe he was going for the referee, but for him to attack the wrestler and start kicking the wrestler, I've never seen that," an anonymous witness at the time of the incident told WSOC. "Yes, parents get upset, but never have I seen anyone attack a referee, a parent, a coach."
The student-athlete was not injured, and I can only hope this lunatic isn't allowed at a high school wrestling match for the rest of his life.
This article was originally published January 21, 2020.