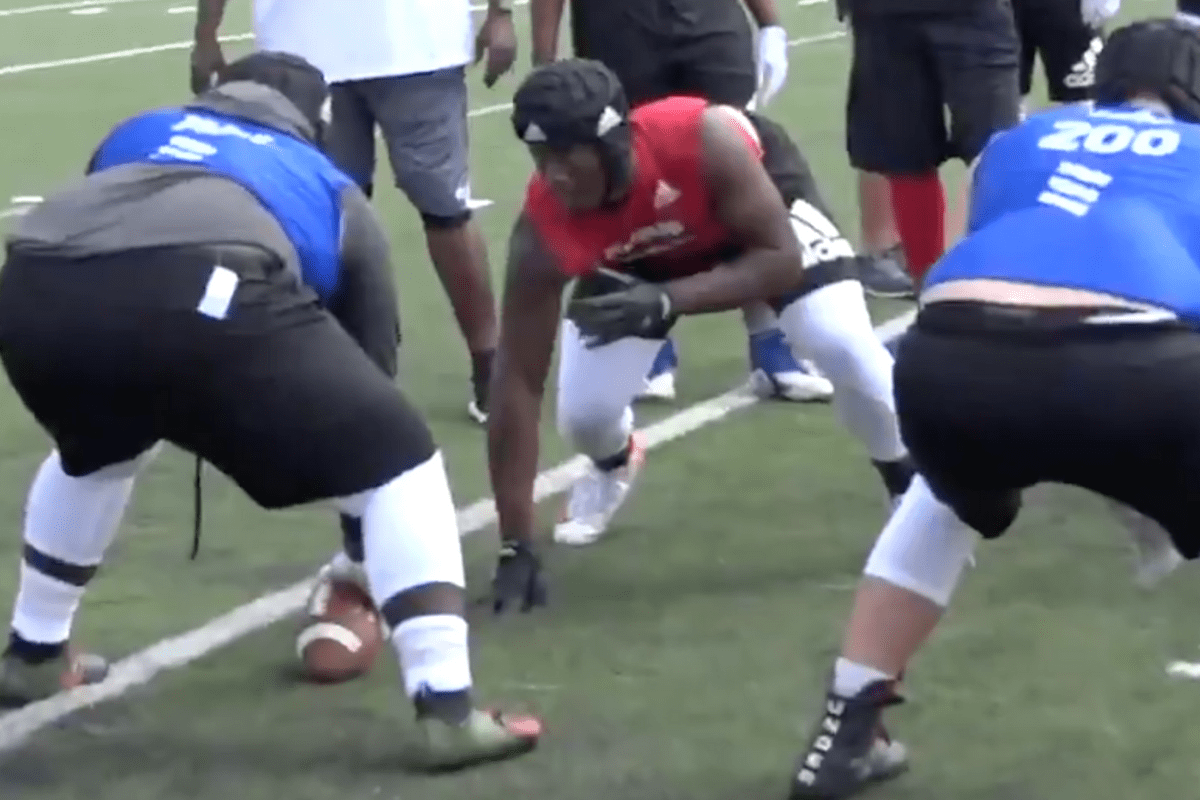 Screenshot from Twitter
Five-star defensive lineman Gabriel Brownlow-Dindy is one of the most physically imposing members of 2022's recruiting class. At 6-foot-3 and 275 pounds, he wreaks havoc when he's on the field.
Brownlow-Dindy plays for Lakeland High School in Florida and is the anchor of his team's defense. He has yet to commit to a college team, but the Oklahoma Sooners are the favorites to sign him.
Gabriel Brownlow-Dindy Recruiting
RELATED: Powerhouse Programs in Race for 5-Star Athlete
Clemson, Florida, Florida State, Illinois, Kentucky, Miami, NC State, Nebraska, Oklahoma, Ole Miss, Pittsburgh, South Carolina, Southern Miss, Tennessee, Texas A&M, UCF, USC, USF, Vanderbilt, Virginia Tech, West Virginia are the programs that have reached out to the star lineman so far.
The Sooners are in the market for improved defensive tackles, so this is a match that can be mutually beneficial. The 247Sports Crystal Ball is incredibly confident that he will end up in Norman.
Of course, the Alabama Crimson Tide and the Ohio State Buckeyes are always looming. Two of the best programs in college football are sure to be in on a five-star prospect in due time. Nick Saban already sent an offer to Brownlow-Dindy's teammate, Keahnist Thompson, so that may be an added incentive.
Gabriel Brownlow-Dindy Highlights
Brownlow-Dindy is a defensive force who gets by blockers with ease. He may be 275 pounds, but he is quick enough to play linebacker at the high school level, so his athleticism is evident.
Florida high school football did not stop due to the COVID-19 pandemic, so the DT was able to add to his resume.
In 2019, he registered 29.5 tackles and a whopping 11.5 sacks, which are impressive numbers for defensive ends. The fact that he did it as an interior lineman is all the more impressive. This guy has all the talent in the world, and we should expect to hear his name called at the NFL Draft shortly.
Gabriel Brownlow-Dindy will be a prominent contributor to a college defense. Oklahoma is currently in the lead, but the race to sign him is not over yet. He has serious potential, so his journey is worth following every step of the way.