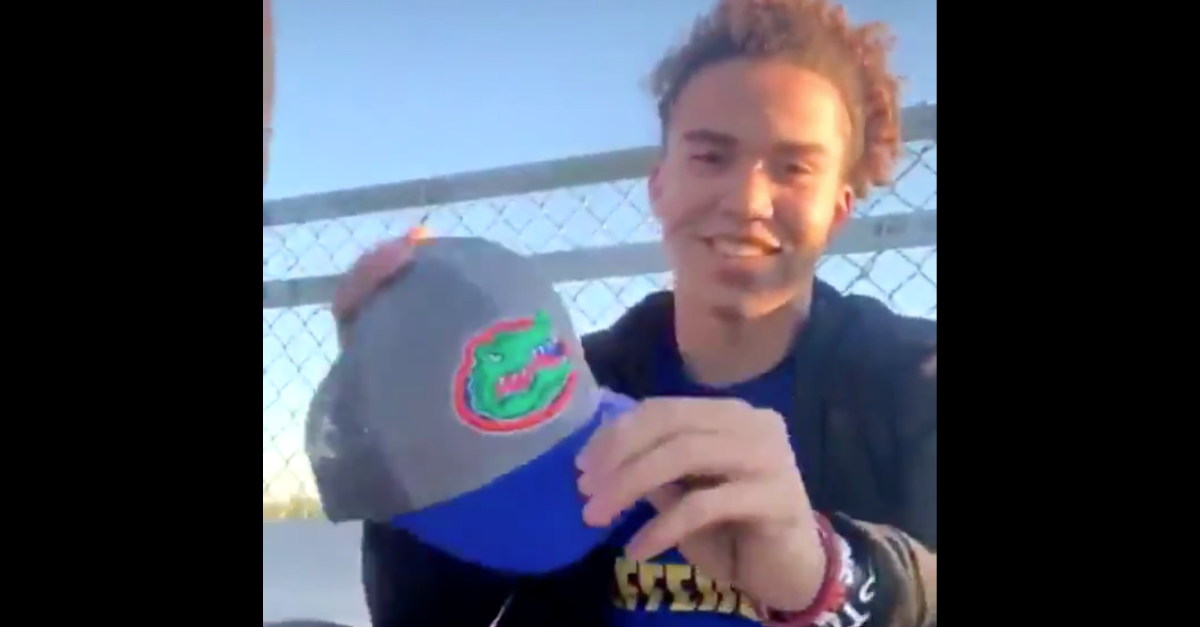 Screenshot from Twitter
The Florida-Georgia rivalry extends far beyond the football field. Of course, there's no love lost between the Florida Gators and Georgia Bulldogs every year in Jacksonville at the World's Largest Outdoor Cocktail Party. The pure hatred for one another begins in the football recruiting process, though.
The Bulldogs wrapped up college football's No. 1 recruiting class in 2020, but Florida got off to an early start to the 2021 class under head coach Dan Mullen (who, by the way, has no problem dunking on Georgia's fan base). And UF's class improved a good deal with the addition of its newest tight end.
Gage Wilcox Commits to Florida 
Four-star tight end Gage Wilcox committed to Florida over Georgia in an Instagram Live video in March 2020. The 6-foot-4, 228-pounder out of Tampa, Florida, is rated the No. 11 tight end in the nation and No. 248 overall prospect in the country.
Wilcox trolled Georgia by choosing a Gators hat instead of a Bulldogs one in the video on social media before celebrating his decision with friends.
Wilcox's addition pushed Florida's 2021 class to No. 2 in the nation behind only the Ohio State Buckeyes at the time. UF now ranks sixth nationally and has 17 commits in its class, nine of which are four-star athletes and three of which are three-star athletes. That group includes a quarterback who is the son of a longtime NFL passer.
Georgia's 2021 recruiting class checks in at No. 16 with just eight recruits, one of which is five-star quarterback Brock Vandagriff.
UF and UGA were two of 18 offers Wilcox was weighing, including from SEC and Power 5 programs like Alabama, Auburn, Florida State, Miami, Michigan, Ohio State, Ole Miss, Penn State and South Carolina.
Wilcox, who was originally recruited by UF assistant coach Larry Scott and now tight ends coach Tim Brewster, told 247Sports he was a big fan of Mullen's offense last season. That offense featured one of the best pass-catching tight ends in the nation in Kyle Pitts, who racked up 649 receiving yards and five touchdowns in 2019.
"You know I really liked the offense a lot from what I saw," Wilcox said. "I liked seeing how they flex out their tight ends out wide some in certain packages and he caught a jump ball out there. I liked seeing them move him from along the line to flex out and letting him catch some passes in space. He was moving around all over the place. I think tight end is an important position in an offense so I like when I see teams to use them a lot. I think I can fit in those roles out wide."
Gage Wilcox Highlights
Whether Wilcox becomes the next great Florida tight end is up to him. UF has produced NFL-bound tight ends like Jordan Reed, Aaron Hernandez and Ben Troupe. Wilcox has the physical attributes, hands and athleticism to become next on that list.
Wilcox still has another year to develop in high school before hitting campus in Gainesville. He's poised to put up some big-time statistics at Jefferson High School. As a junior, he caught 20 receptions for 249 yards and seven touchdowns.
According to 247Sports, he ran the 40-yard dash at 4.80 seconds and jumped 34 inches in the vertical jump in 2019. The sky's the limit for Wilcox. Literally.