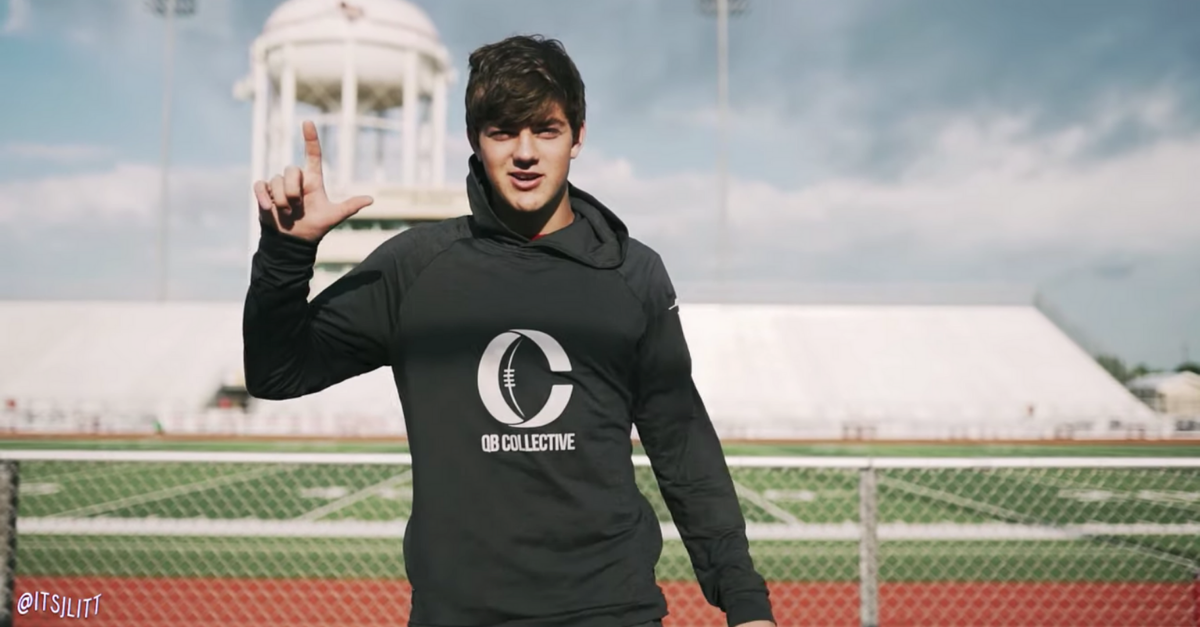 Screenshot from YouTube: jlitt
Doug Nussmeier knows elite quarterback play better than most. During his time leading the Idaho Vandals, the left-handed QB won the 1993 Walter Payton Award — It's the Heisman Trophy of the Division I-AA level, now known as the FCS. Idaho reached the semifinals of 1993 Division I-AA playoffs led by Nussmeier, who left the Vandals as the school's all-time leader in passing efficiency, passing yards, touchdown passes and total offense.
The fourth-round pick in the 1994 NFL Draft played five seasons as an NFL backup for the New Orleans Saints and Indianapolis Colts. He only appeared in eight games before spending one season with the CFL's BC Lions in 2000. Nussmeier's journey was only beginning.
He's coached quarterbacks for the highest-profile teams in the country — Michigan State, Fresno State, Washington, Alabama, Michigan and Florida in the college football ranks, plus the St. Louis Rams, and now, he's the quarterbacks coach of the Dallas Cowboys as Mike McCarthy's tenure begins in 2020.
Nussmeier's held the offensive coordinator role at multiple stops, including two years for Nick Saban's Alabama Crimson Tide. He won the 2013 BCS National Championship leading A.J. McCarron, Eddie Lacy, and Amari Cooper to victory over Notre Dame in the title game.
Nussmeier knows football, so it's no surprise his son is one of the top quarterback recruits in the nation.
Garrett Nussmeier Recruiting
Marcus High School quarterback Garrett Nussmeier is a unanimous four-star recruit and top-15 player in Texas by every major recruiting service. The 247Sports Composite rates the Flower Mound, TX product as the No. 7 pro style quarterback in the Class of 2021, and he holds at least 30 major offers heading into his senior season.
Nussmeier led the Marauders to an 11-2 record before losing to Tacosa in the regional round of the Texas 6A state playoffs. The 6-foot-1 gunslinger threw for 3,788 yards, 38 touchdowns and 10 interceptions on his way to District 6 MVP honors his junior season.
When it came to his recruitment, Nussmeier had first-hand looks at every major program his dad worked at before blossoming in Texas. But from the start, it was head coach Ed Orgeron and the LSU Tigers who caught the eye of a kid born in Lake Charles, Louisiana.
"We've actually continued to build a relationship because they were my first offer freshman year so we've been talking for a long time," Nussmeier told 247Sports. "It's pretty cool. He's a really cool guy. The thing that people don't know is he's really personable, he listens and he talks and he cares."
On May 4, 2020, Nussmeier announced that he's "headed back to my roots" and committed to LSU over offers from Arizona State, Baylor, Georgia, Miami, North Carolina, Oklahoma State, Penn State, Texas, Texas A&M, and Washington State.
QB Garrett Nussmeier Commits to LSU
He joins fellow Texans Landon Jackson (4-star DE from Texarkana) and JoJo Earle (4-star WR from Aledo) committed to Baton Rouge and Death Valley next year.
Until then, Nussmeier has a big-time senior season ahead of him with the Marcus Marauders among one of Texas' most dangerous teams in a highly-contested Class 6A.