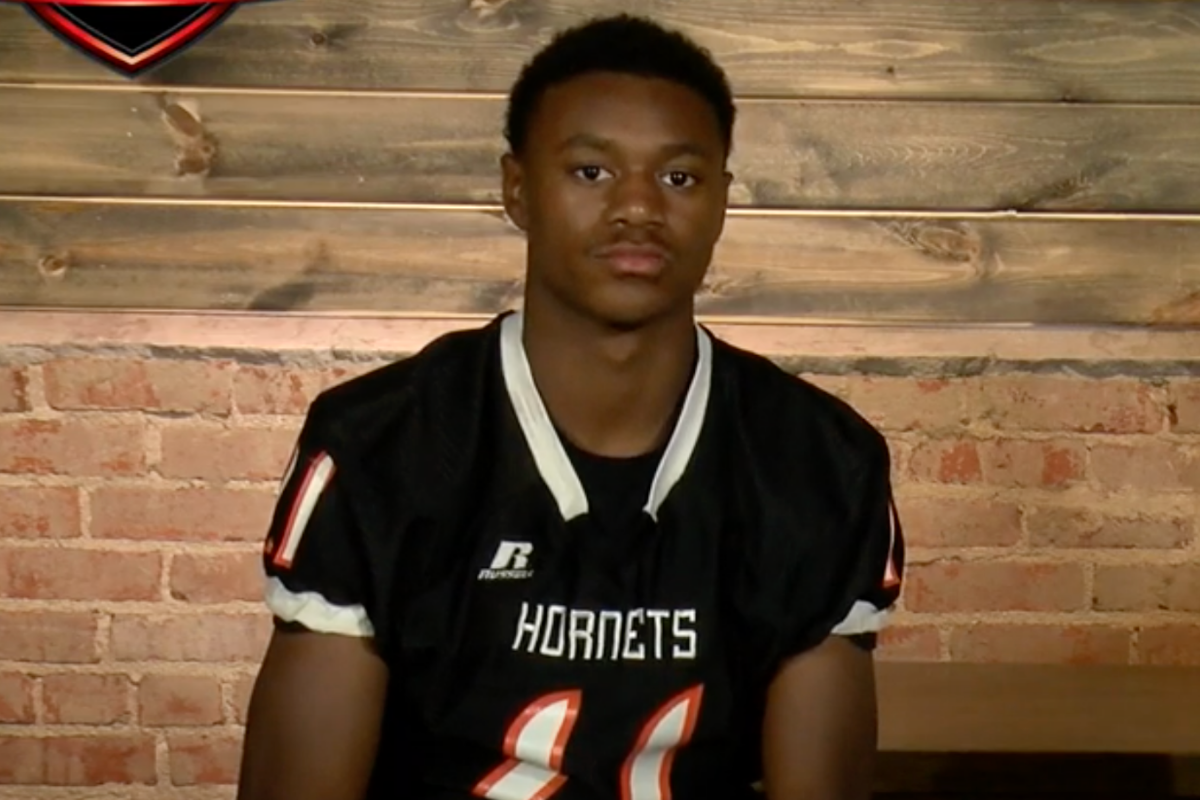 Screenshot from YouTube
Gentry Williams has been heralded as one of the best athletes in the 2022 college football recruiting class. Playing for Booker T. Washington High School in Tulsa, Oklahoma, his junior season was set up to be a breeze.
A torn ACL in September 2020, however, changed everything.
Williams, a five-star prospect, did everything for this Hornets team. He was a quarterback, running back, wide receiver, and cornerback all at once.
His role is similar to the one Taysom Hill of the New Orleans Saints has, but by all accounts, Williams is the more impressive prospect. As a freshman and sophomore, his work on the field led his team to playoff appearances, although they were unable to win an Oklahoma state championship.
Gentry Williams Recruiting
RELATED: Meet the 285-Pound QB Taking the Internet By Storm
Arkansas, Baylor, Florida, Georgia, LSU, Memphis, Michigan, Missouri, Nebraska, Oklahoma, Oklahoma State, TCU, Tulsa, and USC have all made scholarship offers to five-star athlete Gentry Williams. The Gators are known to have piqued his interest, but the Sooners will also be favorites for the high school football superstar.
Scouts believe that his future is as a defensive back, but the versatility he has shown will lend itself to the college game quite nicely.
ATH Gentry Williams Highlights
Thankfully, Williams is expected to make a full recovery from his knee injury. His recruiting ratings have generally remained the same, too. His current Rivals.com rating is four stars, but a great start to 2021 will change their minds.
Williams spoke with Tulsa World's Bill Haisten and was candid about the difficulties of having the knee injury, but perhaps some positives can be drawn from this experience.
The COVID-19 pandemic has changed the recruiting process, and Williams will be able to recuperate after a long offseason. That rest may do him well if he is not committed to a team by his senior year; he can look more explosive and finally help his school reach a state title.
An ACL injury is no longer a career-ender, and he has the physical tools to get past any potential setbacks.
Gentry Williams is a playmaker who should have legitimate NFL aspirations. It may take a while to shake off the rust, but he is his state's top junior football athlete for a reason. Be on the lookout for his jersey in college.