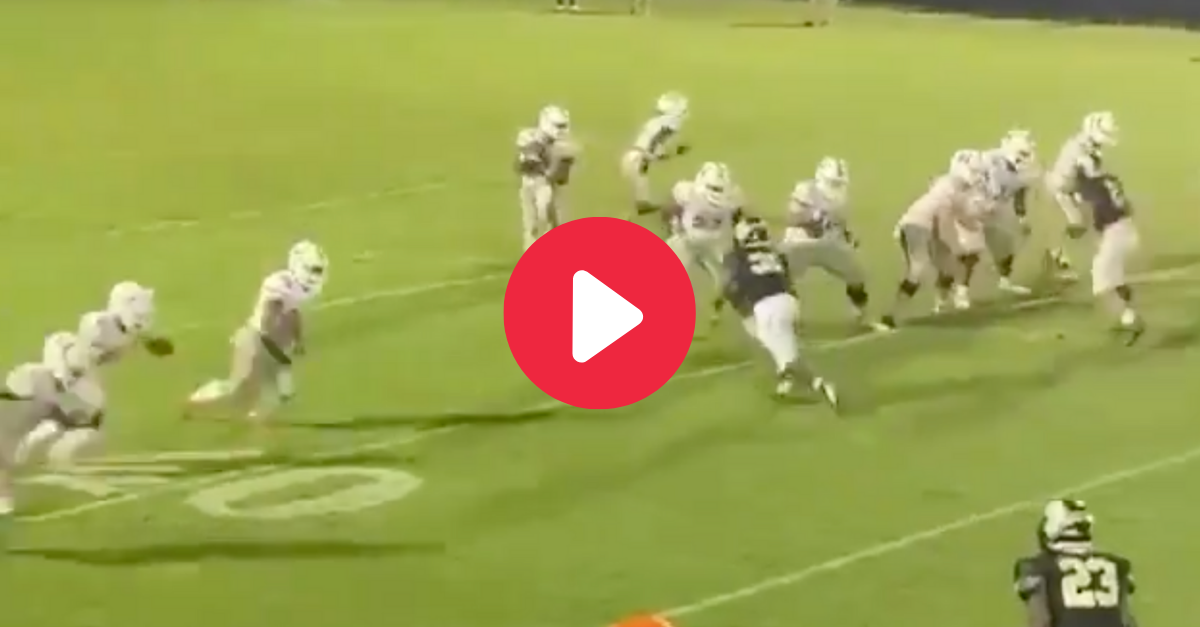 Screenshot from Twitter
Whenever a high school football game is on, expect the unexpected. Those Friday night lights are magical and can produce moments that can last a lifetime. What the Hillcrest-Tuscaloosa Patriots did on their final play might never be forgotten.
Trailing 30-28 with 2.9 seconds left and on its own 41-yard-line, Hillcrest-Tuscaloosa needed a miracle to take down Wetumpka. That?s exactly what it got.
With nine laterals and a fumble scoop, the Patriots pulled it off for a final play touchdown you honestly just have to see to believe.
Hillcrest-Tuscaloosa?s Final Play vs. Wetumpka
RELATED: Female Quarterback Throws 42-Yard TD on First Varsity Pass
The play was called ?Bronco.? It was brought to life after Hillcrest High School head coach Sam Adams saw the Boise State Broncos run a scramble play back in the day, according to AL.com. It was the perfect time to call it.
Quarterback Ethan Crawford connected on a short pass to running back Marcus Wilkins to start it off. Then, it was complete chaos for the next minute.
Terrance Callaway, AJ Myers, and Caleb Robbins all got involved as well. Crawford, however, was the star. Not only did he start the play, he also scooped up a fumble and ran it into the end zone for the game-winning touchdown. The official ruling was a 46-yard touchdown.
The Patriots, who improved to 4-0 on the football season, run that play about once each season. This one was obviously the best.
?We never had it play out like that,? Adams told AL.com. ?I don?t even know what to say. After it was all over with, there was pandemonium.?
The comeback play, which was posted by MaxPreps, went viral right away and even had Tampa Bay Buccaneers quarterback Tom Brady comment on it on social media.
Sometimes it?s better to be lucky than good, and the Alabama high school football team definitely proved it on the final play of the game.
Wild plays like this definitely happen at the NFL and college football level, too, but the raw emotion of it happening in high school sports makes makes it even better.
Anyone involved in the Hillcrest win during the coronavirus pandemic and COVID-19 outbreak will never forget it, either.