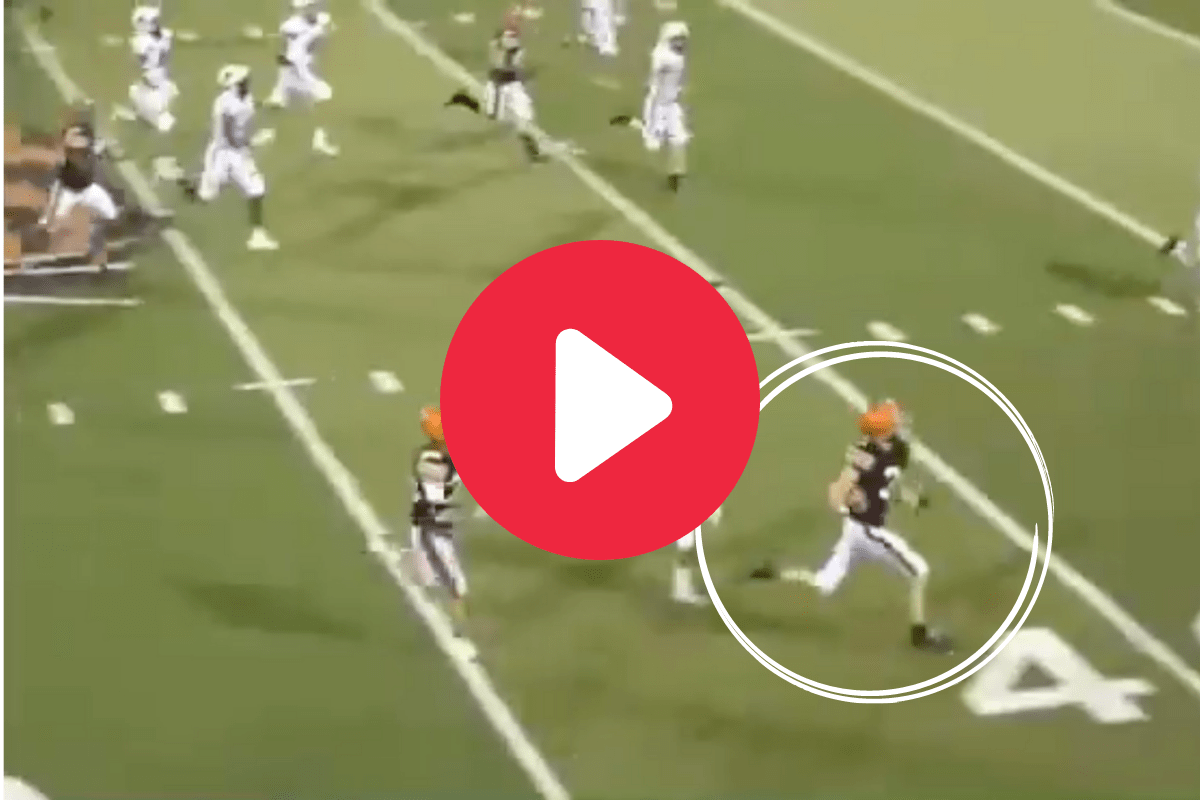 Screenshot from Twitter
All the Jackson Ironmen had to do was make a tackle. Make a tackle and they beat an Ohio high school football powerhouse.
Jackson had the momentum. They had just hit a field goal with 1.6 seconds remaining in the fourth quarter to go up 10-7. The stands were going crazy. The players were jumping with joy. The game was essentially won.
Only it wasn't.
Ironton's Game-Winning Lateral Kickoff Return
RELATED: HS Lineman's "Worm" Trick Play Somehow Worked Perfectly
Jackson squibs the kickoff to Ironton's 30-yard line. Braxton Pringle (there's no way this kid isn't the next starting shooting guard for Wisconsin with a name like this) fields the ball and pitches it back to teammate Landon Wilson. Wilson zips to the opposite sideline, trying to find any hole he can in the coverage.
Wilson hits a wall of Ironmen and pitches it to teammate Ty Perkins. Fortunately for the Tigers, Perkins has the magic touch. At 6-foot-3 and 173 pounds, according to his 247Sports recruiting profile, Perkins has the longest strides on the east side of the Mississippi. He finds a hole and bursts through it.
Next thing you know, Perkins is in the open field and only has the Jackson kicker to beat. This is like when Giannis Antetokounmpo is on a fast break with one defender standing in his way. He takes two steps and scores. Perkins did something similar. He leaves the kicker in the dust and crosses into the end zone to score the improbable touchdown of improbable touchdowns.
Ironton wins, 13-10. Incredible.
Jackson left heartbroken. Ironton left thinking this year might just be their year. The walk-off kickoff return brings the Tigers to 2-0 in the young regular season. Last year, they reached the Ohio Division V State Championship but lost. I'm a big believer in making your own luck. Make the right plays, give it your all, have devastatingly long legs and things tend to work in your favor.
Related Videos