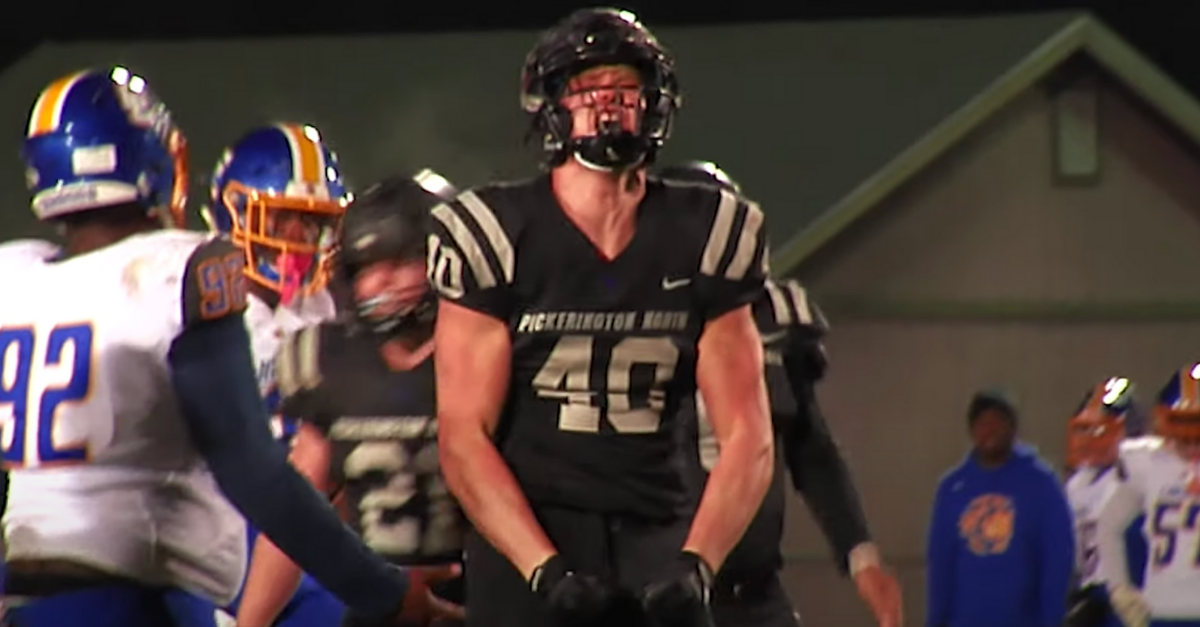 Screenshot from YouTube
Jack Sawyer was ready for an amazing senior season. He was looking forward to dominating one more year for the Pickerington North High School Panthers. Unfortunately for him and many who love watching the 5-star defensive end play high school football, that will never happen.
In Ohio, like many other states, there?s a lot of uncertainty whether or not there will be a full high school football season, if any at all. The coronavirus pandemic and COVID-19 outbreak put it all in jeopardy. Sawyer isn?t about to take any chances.
Sawyer was already planning to enroll early and play for the Ohio State Buckeyes next season. With the Big Ten flirting with a possible spring season instead of fall football, the 6-foot-5, 250-pound star wants to be ready. He is skipping his senior year.
Jack Sawyer Skips Senior HS Season to Train
RELATED: No. 1 QB in America Announces His College Decision
Ohio State football?s 2021 recruiting class is loaded. Head coach Ryan Day already secured four five-star prospects, including running back TreVeyon Henderson, offensive guard Donovan Jackson and quarterback Kyle McCord. None, however, were ranked higher than defensive end Jack Sawyer.
Sawyer is the best player in Ohio, and he picked the Buckeyes after fielding offers from Cincinnati, Georgia Tech, Indiana, Kentucky, Maryland, Michigan, Michigan State, Notre Dame, Oklahoma, Penn State, Pittsburgh and Virginia.
The nation?s No. 3 overall prospect, according to the 247Sports Composite, had options, but OSU was the perfect fit, and now he?s getting ready for his future in Columbus. He announced his decision on social media.
?After extensive discussion with my parents and coaches regarding the uncertainty of this high school football season and the probability of a spring collegiate season, I have decided to focus on training and preparation for my early enrollment at Ohio State.

?I want to thank all of my coaches and teammates for their support throughout this difficult decision.?
Ohio State commit Jack Sawyer isn?t the first football player to skip his final high school season. He won?t be the last. Several Buckeyes recruits have already announced their decisions, including Henderson, running back Evan Pryor, tight end Sam Hart and defensive back Jordan Hancock, according to ESPN.
The next time we see Sawyer, a superstar with incredible athleticism and All-American potential, will be on the NCAA college football field, whenever that might be.