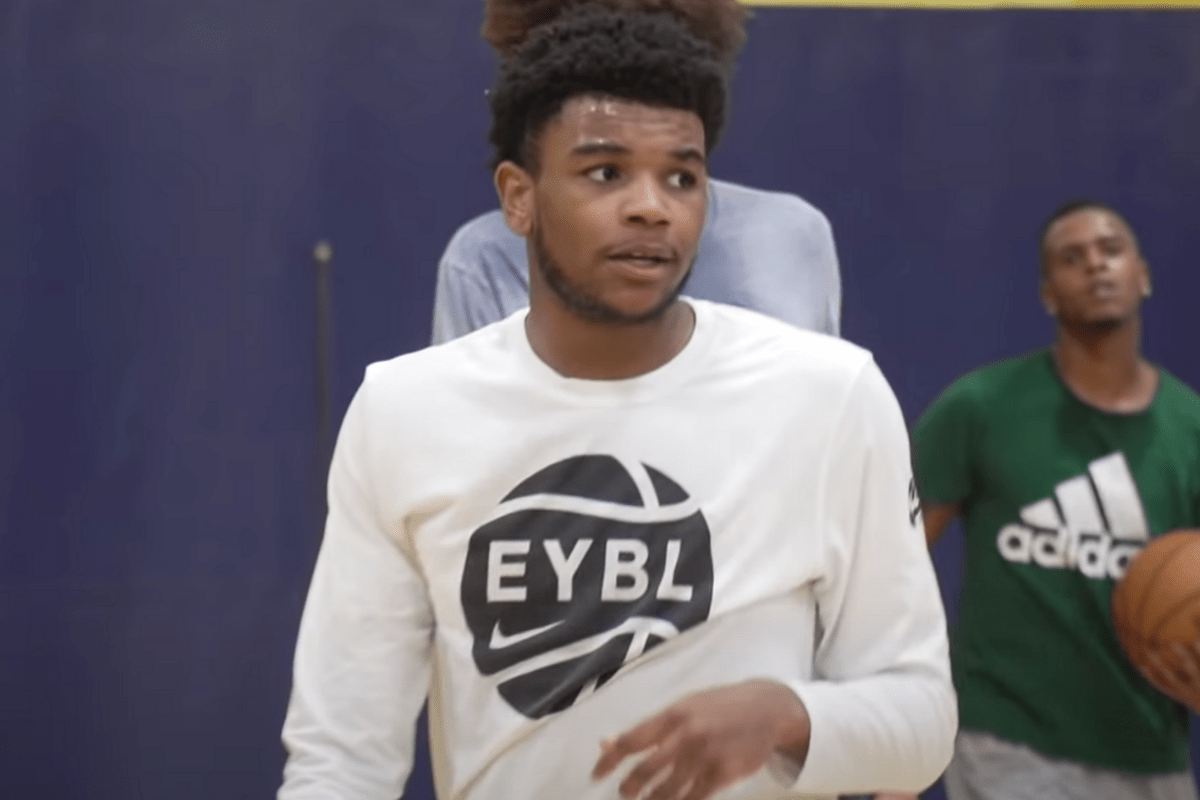 Screenshot from YouTube
In a year full of uncertainty, Jaden Hardy's decision hasn't become any easier.
The 6-foot-4, 190-pound combo guard from Las Vegas is as good a scorer as they come. This prolific skill set makes him one of the hottest undecided commodities in high school basketball.
Hardy has been linked to several top college basketball programs as well as the G League.
Whichever path he chooses, one thing is certain: Hardy is a gamer.
Jaden Hardy Highlights
Hardy can score at all three levels. He's dynamic on the way to the rim — changing speeds and using strength to clear a path. The point guard/shooting guard is a creative finisher with either hand. He uses his body as a shield and is able to put some English on the ball to convert at difficult angles.
In transition, Hardy is a high-flyer. He'll zoom ahead of the pack to throw down powerful slams.
The Henderson, NV, native has one of the prettiest shots I've seen from a high school player. He keeps the elbow tight, feet square, and fluidly goes through his motion. Hardy can create a jumper in any situation: off the dribble, in transition, and off the catch. He shoots with soft touch, beautiful rotation and is particularly skillful at finding openings as a spot-up shooter.
If I'm nitpicking, the only thing I would knock is his loading point. It's a little low, right around his chin.
As a lead guard, Hardy is a playmaker and has good court vision. He can set up defenders and find open teammates. He'll need to tighten up the handle as he progresses. I believe Hardy would maximize his abilities playing off the ball.
Overall, Hardy plays with swagger and confidence.
Jaden Hardy Basketball Recruiting
RELATED: Hunter Sallis Has 5-Star Game, And An Even Bigger Future
The Coronado High School guard is the fourth-ranked recruit in the Class of 2021, according to the 247Sports Composite Rankings. He's the top-rated combo guard in the country.
Hardy has interest from Kentucky, UCLA, Alabama, Arizona, Arizona State, Georgetown, Georgia, Illinois, Louisville, Memphis, Michigan, Texas Tech, Cal, Florida State, Georgia Tech, Kansas, LSU, Mississippi State, Missouri, Oklahoma, Rutgers, San Diego State, TCU, UNLV, USC, Vanderbilt, and Washington.
Hardy announced his top 12 on social media in April 2020. Arizona, Arizona State, Georgia, UCLA, Texas Tech, Georgetown, Oregon, Kentucky, Michigan, Memphis, Kansas, and Illinois made the cut.
The five-star is keeping an eye on players who made the jump from high school to the NBA G League this past year. Per Rivals:
"I just want to see how [the G League] is and how this first year goes for all the top players that chose that route like Jalen Green and Daishen Nix. I'll be asking them about how they like the team and the coaching staff and just get their feedback on the whole process before going to the NBA. I don't know a lot about it, but it's something that I'm definitely going to look into and keep an eye on."
Top 2020 recruit Jonathan Kuminga also went the G league route. Kuminga was the top recruit in the class of 2021 before reclassifying in June 2020.
247Sports' Crystal Ball has Hardy split between head coach John Calipari's Kentucky Wildcats and the G League.