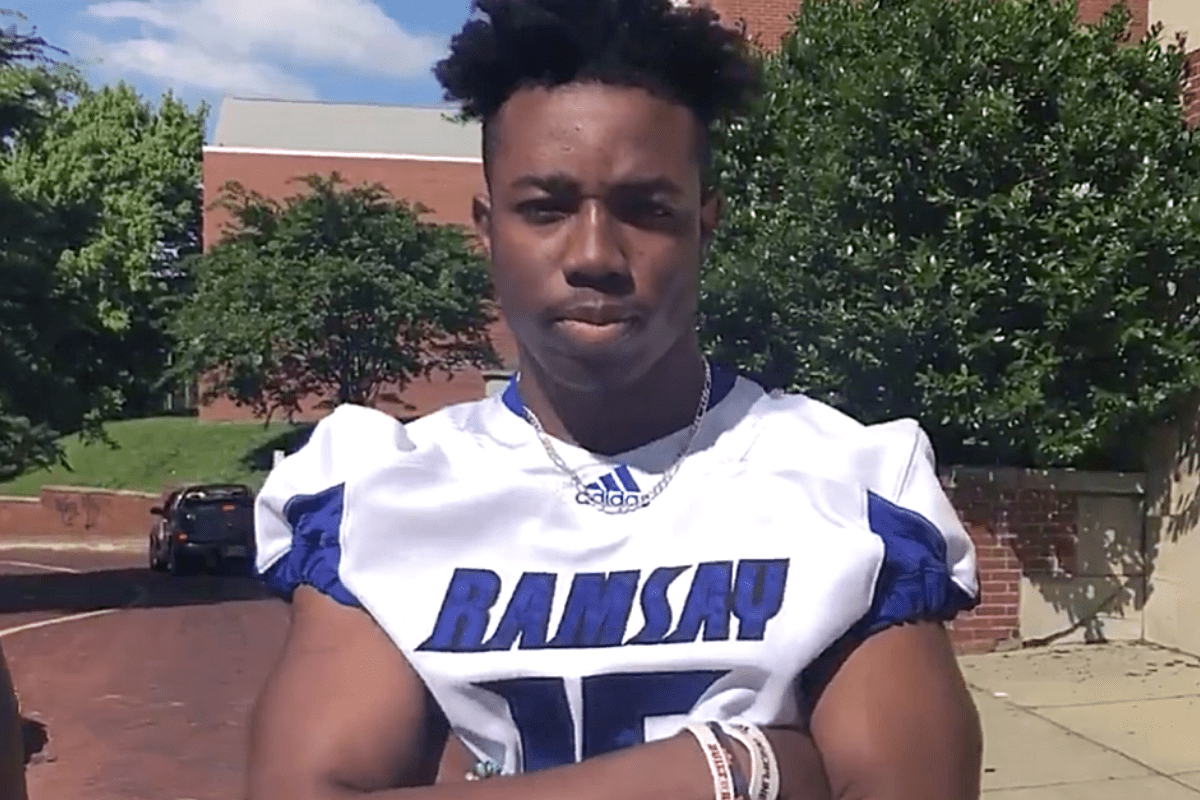 Twitter: Chad Simmons
High school football in Alabama is a hot bed of SEC-caliber talent. Top-rated cornerback Ga'Quincy McKinstry's commitment will turn one team's secondary into a "No Fly Zone." Lee Hunter joining Auburn maintains the Tigers' run of dominant defensive linemen.
When it comes to Ramsey High School defensive end Jeremiah Williams, a pass-rushing nightmare is up for grabs.
4-Star DE Jeremiah Williams Recruiting
RELATED: America's No. 2 Cornerback Commits to Florida
Standing 6-foot-3 and weighing 224 pounds, "Scooby" Williams is ranked as the No. 5 weak-side defensive end in America and is fifth-ranked overall in Alabama, according to the 247Sports Composite. The hybrid defensive end-linebacker holds 35 offers from schools like Florida State, Georgia Tech, Kentucky, Nebraska, Notre Dame, Ole Miss, Penn State, TCU, Tennessee and West Virginia.
Williams took to Twitter on June 5 to reveal the six schools he'll focus his recruitment on ahead of his senior season.
– Alabama Crimson Tide
– Auburn Tigers
– Florida Gators
– Georgia Bulldogs
– LSU Tigers
– Oklahoma Sooners
247Sports' Crystal Ball predicted the four-star recruit will end up with Gus Malzahn and Auburn University, but as with most college recruitments, anything can happen.
After attending Junior Day at the University of Alabama, Williams said it would "would be a blessing" to play for Nick Saban's dynasty. Williams also attended Florida's Junior Day, and Dan Mullen's staff is reportedly working hard to add the coveted pass rusher to their 2021 recruiting class, according to All Gators.
Williams terrorized opposing offenses last year, racking up 70 tackles, 16 for loss, 14 sacks, one interception, and one forced fumble his junior season. He was named First-Team All-State as a sophomore. The Ramsay Rams won 32 games over the last three seasons, but haven't captured the ultimate prize since winning an Alabama state championship back in 2016.
Before taking his blend of raw talent and athleticism to the next level, you can be certain that Jeremiah Williams is hard at work bringing a title back home to Birmingham, Alabama.
Jeremiah Williams Commits to Florida
UPDATE (November 13, 2020): The top-100 recruit shocked the SEC when he committed to the University of Florida on October 26. Williams, who hails from Alabama, announced his commitment on his Twitter.
As Dan Mullen fights for top recruits in the upcoming classes, nabbing players like Williams is a must. Stealing him from Auburn and Alabama's backyard should be considered a big win for the program.