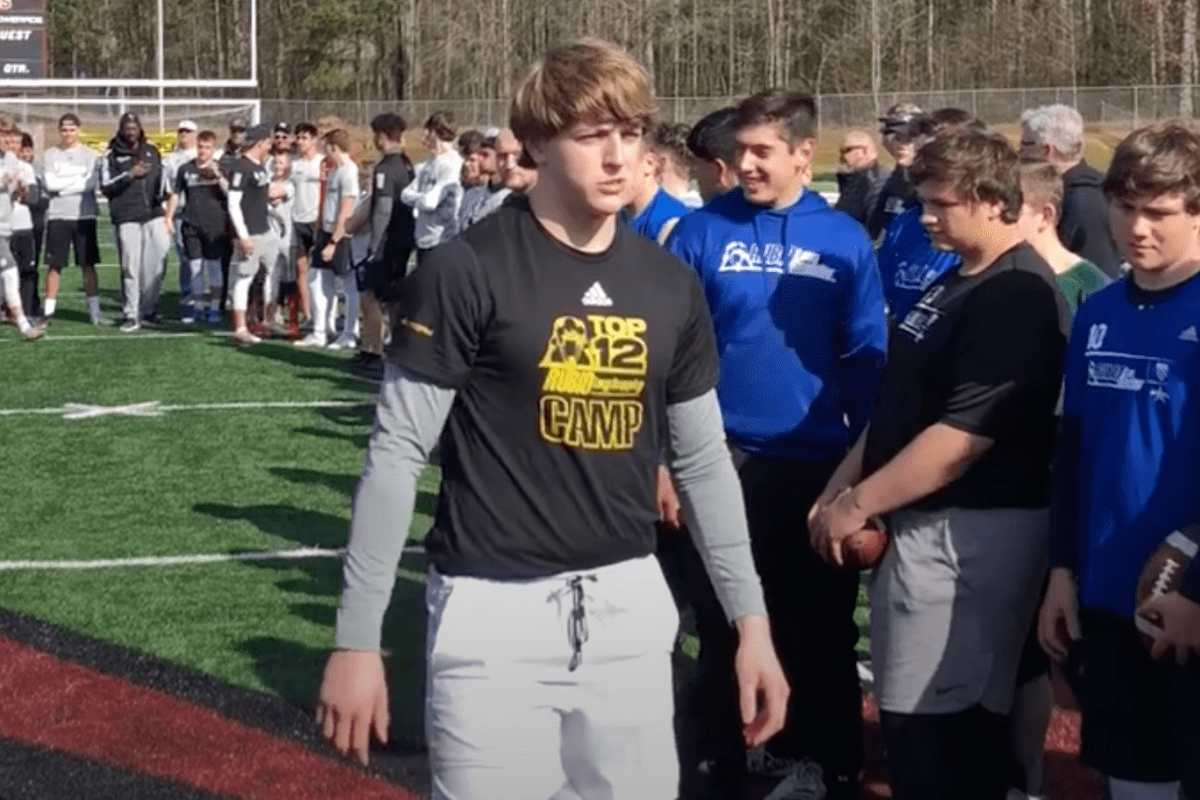 Screenshot from YouTube
Much like referees or the tank of a toilet, one rarely notices a long snapper unless something has gone wrong. They are integral parts of the game of football, and these special team players can go on to have long and prosperous careers in the NFL.
Jonathan Washburn is hoping to make an impact at the college level first, and he is taking his talents to the University of Georgia to play for the Bulldogs.
Jonathan Washburn Commits to Georgia
Jonathan Washburn, a Georgia native, won't have to travel far to play for the Bulldogs next year. His hometown of Ringgold, Georgia,  is just a three-hour drive from Athens. The senior plays for the Heritage High School Generals and has received quite a bit of praise for his talents.
Jonathan Washburn Scouting Report and Highlights
RELATED: Nation's No. 6 Recruit Passes on Dream School to Stay Home
Jonathan Washburn was a participant at the Rubio Long Snapping Camp back in June, which is a showcase event for long snappers all across the United States. After several impressive performances at camp, Washburn became a"six-star" prospect, the highest grade a long snapper can receive using founder Chris Rubio's metrics.
His snaps are smooth and he has an athletic build of 6-foot-3 and 220 pounds. Interestingly, he also ran a 40-yard dash in 4.85 seconds, a number not blinding by a wide receiver or a running back's standards, but still notable and quick for someone playing a position that does not need to rely on speed.
With Washburn's impressive snap time, Rubio Long Snapping scouts believe he can be a college-level long snapper today, despite his age.
Washburn took to social media to declare his commitment, and will give UGA head coach Kirby Smart another special teams weapon as a preferred walk-on.
Georgia football is known for its emphasis on attracting special teams talent, most notably Indianapolis Colts rookie kicker Rodrigo Blankenship. The Bulldogs are hopeful that Washburn can be another positive to this aspect of the game. Georgia boasts a fantastic football recruiting class thus far and has augmented that praise by landing five-star offensive tackle Amarius Mims in recent days.
Although the road may be difficult and winding for the long snapper and his quest for NFL stardom, the hope is that he will one day be the next Morgan Cox or Nick Sundberg.