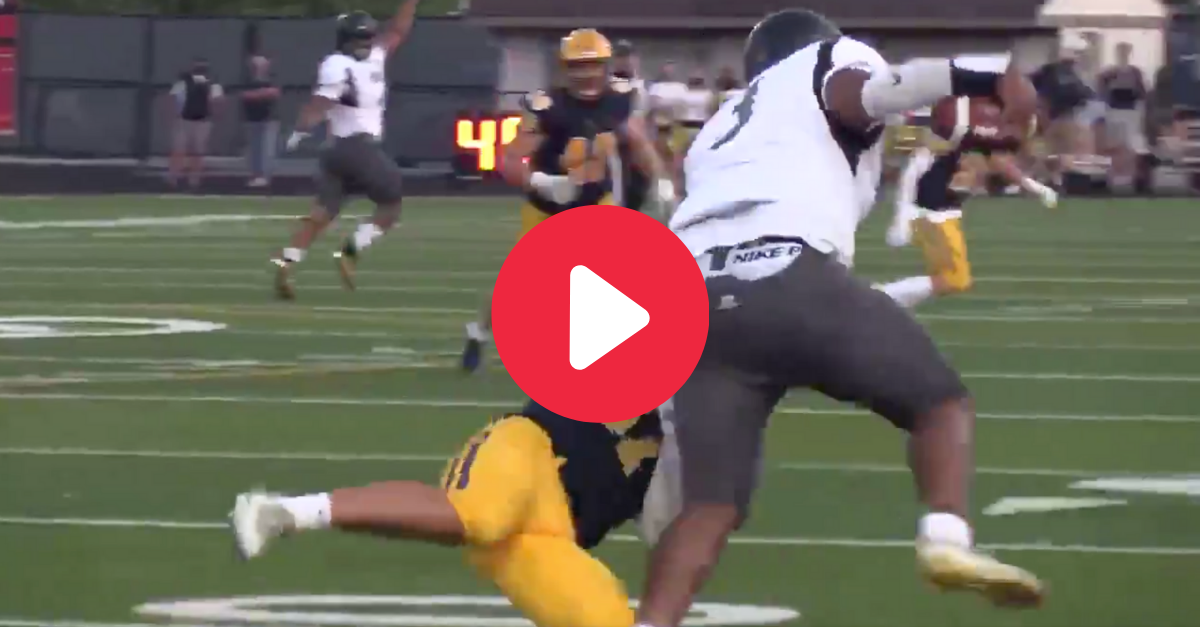 Screenshot from Twitter
There?s nothing quite like high school football. It?s where star players become local legends and where crazy plays happen all of the time. It?s also common to watch football players do work on both sides of the ball, but not all of them make it look easy.
It?s time for everyone to meet Joshua Bogan. He plays quarterback and linebacker for Bishop Sycamore in Columbus, Ohio and instantly became a viral social media sensation. He?s listed at 6-foot-2 and 240-pounds, but that might be a little on the light side.
Make no mistake about it, though: Bogan can play.
Josh Bogan Highlights
RELATED: Punter Fumbles Snap in Rain, Ends Up Destroying Poor Defender
Go ahead and mark September 12 as the date Josh Bogan became a viral star. Columbus Bishop Sycamore was playing Cleveland?s St. Ignatius. The Centurions lost the game, much like they did against Massillon Washington, but their quarterback and linebacker definitely did some impressive things.
On one run, he threw down a defender and stopped on a time to juke another before going out of bounds.
Bogan showed off his cannon right arm for a deep completion into the red zone.
He then completely destroyed a ball carrier that Saturday night.
Unfortunately, St. Ignatius easily beat Bishop Sycamore, 33-6.
The start of the HS football season hasn?t been ideal for the Centurions. Last year wasn?t much better.
However, if Josh Brogan continues to play at this level, perhaps Bishop Sycamore can win some games outside of the OHSAA and he gets some college football interest. There are several opportunities left on a national schedule to help make more plays.
Who knows, maybe Ohio State or Cincinnati could want him. There's no doubt he can move and plays football with a passion.