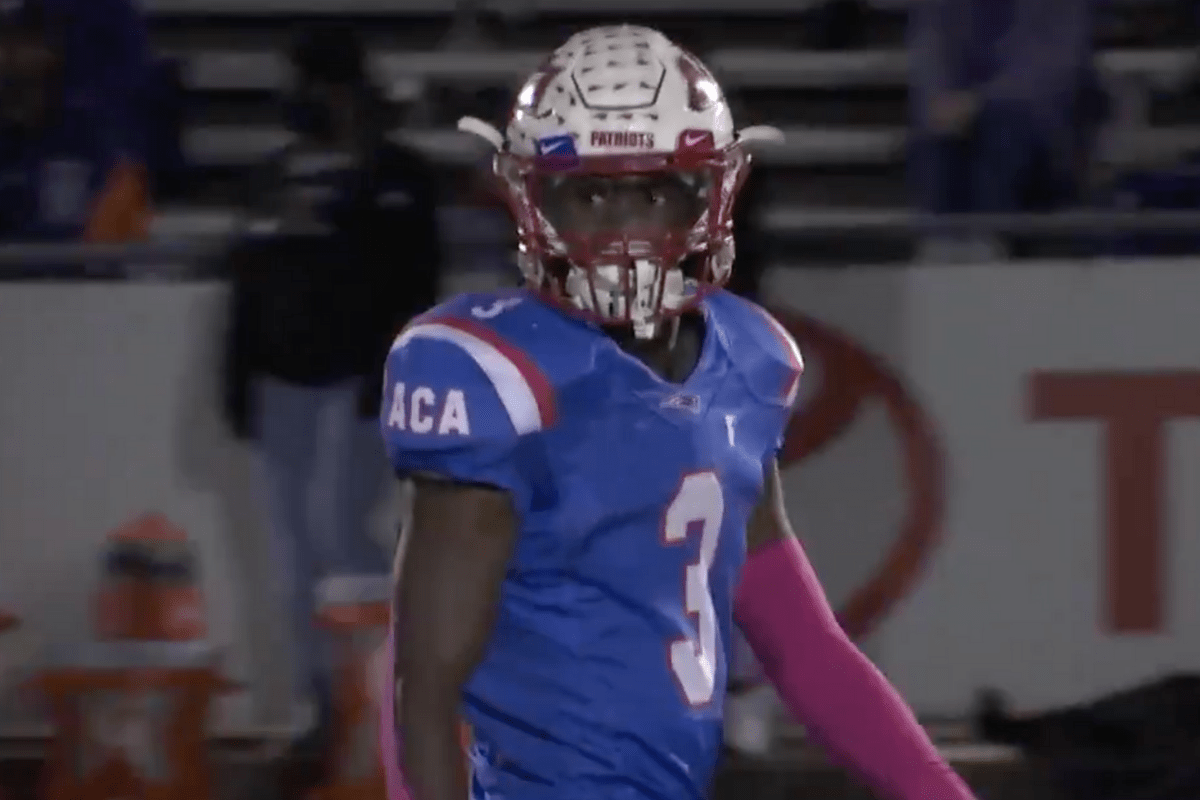 Screenshot from Twitter
The rivalry between Alabama and Georgia's college football programs has been one-sided over the last decade. Recently, however, the Bulldogs were able to get a rare win over the Crimson Tide by recruiting a Tuscaloosa resident and getting him to move to Athens next season.
Cornerback Kamari Lassiter committed to head coach Kirby Smart's squad on October 22 and is yet another addition to the Dawgs' vaunted 2021 recruiting class.
Kamari Lassiter Commits to Georgia
Nick Saban must not have made enough of an impression, as the final four schools in Lassiter's decision were Auburn, Clemson, Georgia Tech, and the Dawgs.
RELATED: 6-Star Recruit Finds Future Home in the SEC
Interestingly enough, Lassiter, a three-star recruit, is a Georgia native, so this is a homecoming of sorts for the defensive back. He plays his high school football for American Christian Academy in Tuscaloosa, a short distance from Bryant-Denny Stadium.
In addition to the interest shown by Bama and the Georgia Bulldogs, Lassiter was also recruited by Arkansas, Florida, Florida State, LSU, Mississippi State, Oklahoma, Ole Miss, Tennessee, and Vanderbilt.
Unfortunately, the COVID-19 pandemic has changed the way recruiting is done, as Lassiter did not get to "officially" visit any of these schools; the meetings were entirely virtual. With that in mind, it is clear that Athens left a good impression, and he committed without getting the full experience a typical recruit would.
Cornerback Kamari Lassiter Highlights
Lassiter has been exceptional on both sides of the ball. In addition to his four interceptions on defense, he also lines up as a wide receiver. During his junior year, he had over 900 receiving yards and caught 15 touchdowns.
Scouts have praised his ball skills, physicality, and IQ both on and off the field. His speed makes him an excellent corner in man-to-man coverage. Though three-star prospects can be hit or miss, his defensive versatility could one day move him all around the secondary, suggesting that the NFL Draft is not out of reach for him.
Georgia football would like to return to the heights they reached long ago, and having consistently excellent recruiting classes is one of the best ways to do it.
Lassiter became the 17th player to join UGA next season, suggesting they will have the depth to be a powerhouse in the SEC once more.
If the Bulldogs can live up to their potential with this recruiting class, Lassiter will be playing in some big-time games sooner rather than later.